I'll get straight to the point – This piano is truly excellent value for money. Here is my Yamaha DGX670 review.
While demonstrating the extensive features of the Yamaha DGX to customers in our showroom we noticed a peculiar thing. If for whatever reason the price ticket had been lost or removed, and we asked the customer to guess the price of the instrument, they would always guess too high, sometimes by over £1000! – This should give you a good idea of the impression this piano makes on people.
You really do get a lot for your money:
An authentic piano feel with one of Yamaha's weighted key mechanisms. (88 keys – Graded Hammer Standard)
A genuine piano sound – using a Yamaha CFX concert grand piano sample. (256 note polyphony)
Over 600 quality voices including strings, choirs, guitars, drums, synths and more…
Over 260 backing styles (using these is like having band or orchestra play along with you)
Microphone input for singing along. (1/4 inch jack input)
A 16-track recording studio built-in (the previous version DGX660 only had 5 tracks, so this is a big upgrade!)
Easy USB connection for transferring your recorded music as MIDI or wav files to a computer.
Bluetooth audio connectivity including Yamaha's SmartPianist app (watch our review of that here).
I could go on and on…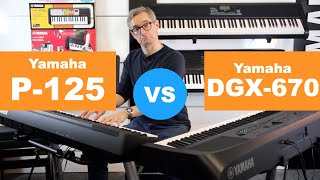 25m
Yamaha P-125 vs Yamaha DGX-670 | What piano should I buy?
ePianos
In this video, Chris compares two of Yamaha's most popular portable pianos: The Yamaha P-125 vs The Yamaha DGX-670
If you're a singer-songwriter and want a one-stop machine for composing then this piano is your dream come true.
You're going to be able to use the DGX670's excellent collection of backing bands, add your piano playing as a personal touch, record multiple layers, sing over the top and then transfer a professional quality recording to your PC or laptop (via USB) for sharing.
If you're a live streamer/performer then it gets even better. Once you've chosen the style of backing-band that you want, you become the conductor of the group – all through the way that you play the keyboard.
Using a technology called 'Adaptive Style' you can play intensely and hard and the group will follow you with more instruments and a more upbeat backing.
Take your foot off the gas and play in a more laid-back style and the band will play lightly, removing instruments and matching your inputs. It's incredibly clever and effective at giving a more human feeling to the overall performance.
Another big help for adding a personal touch while playing live is the new Unison & Accent feature. You are able to press a pedal, play your own passage (e.g. from a song that you're covering), add in a flourish or accent and the band will follow you with extra percussion and other instruments.
Again, it's a really clever way to give a less robotic feel to the live performance and makes you feel like you're connecting with your 'band'. 'Simple Style' is another feature along these lines. This instantly cuts out all backing except the drums, bass, and your selected voice.
The design of the cabinet has been changed significantly from the previous version (DGX660), and has a KORG-esq feel to it with contoured edges and speaker housings.
It's a funkier, more stylish look that is very welcome for the stage. And as you can see in the pictures it also looks great in the home.
The dimensions are almost the same as its predecessor (Width 1397 mm × Depth 445 mm × Height 151 mm/55" × 17-1/2" × 5-15/16") – and it's only put on a tiny bit of weight during lockdown (unlike me), going from 21kg (DGX660) to 21.4kg.
So, it's still most definitely a 'portable' stage piano that will be easy to carry, put in a car, and store under the bed. But it's not as easily moved as its much more simplified cousins the Yamaha P45 and Yamaha P125.
It's also worth noting that, unlike the older DGX660, the DGX670 does not come with its wooden stand in the box. This is a sensible move by Yamaha as the wooden stand wasn't always to everyone's taste and you had no option not to buy it!
You can still buy it of course, and the 3-pedal unit, as an accessory. The DGX670 is flat underneath so will sit comfortably on a table top.
One downside is that the operating system is not a touchscreen. Yamaha have been making brilliant keyboards using touchscreen systems lately (PSR SX-700, PSR SX-900) and I was hoping this system would filter to the DGX670.
It would have been a really nice touch and much more intuitive than the 'cashpoint' button system. Plus we're all rather used to using them now, aren't we?
With my piano teacher's hat on, I would be absolutely thrilled if a student of mine (adult or child) purchased this piano. I know they'd be getting a proper piano feel to learn the muscle memory that is required.
I know they'd get a top-notch piano sound that allows them to express genuine 'feeling' with their playing, and I'd be very happy that they have a piano that has plenty of goodies to keep them engaged and practicing! – And that's what it's all about.
Overall, I'm giving the Yamaha DGX-670 a rating of 9/10 – I'm very serious when I say you get superb value for money with this model.