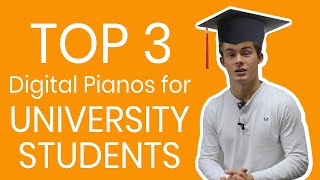 Which digital piano should I take to university?
Video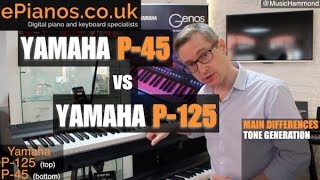 Yamaha P45 vs P125 comparison review
Video
includes 3 months of YAMAHA FLOWKEY
Have you always dreamt of playing piano or keyboard? Alongside online courses, private lessons with a piano teacher or classes in a music school, there are also other options: Start learning how to play your favourite songs on your Yamaha piano or keyboard right now, at your own pace and whenever you have time – with Yamaha and flowkey.
Flowkey is one of the world's most popular apps for learning to play the piano. Even beginners can learn to play a wide array of songs on their acoustic piano, digital piano or keyboard in next to no time. The flowkey piano app is the ideal companion for those starting to learn the piano. Choose your favourites from a wide range of songs and start playing right away or learn in the traditional way with one of the many tutorials available.
All you need to do is:
• register your new acoustic piano, digital piano or keyboard on the Yamaha Music Member Europe (YMME) portal
• obtain your individual code from the members' portal
• enter your code when registering on the flowkey website.
You will then have premium access to the app free of charge for three months.
Outstanding keyboard feel ensures an authentic piano-playing experience.
The P-45 features a Graded Hammer Standard (GHS) keyboard. The feel of the keyboard gradually changes according to the register, so that it feels heavier when playing bass parts and lighter when playing treble parts, just like an acoustic piano. The keyboard has a responsive, natural feel together with matte finish black keys for a truly authentic piano playing experience.
Improved Advanced Wave Memory (AWM) tone generator
The P-45 improves upon the traditional AWM synthesis system to deliver stunningly real piano sounds. AWM is a technology that uses digital recordings of original instruments and allows you to experience a realistic grand piano sound wherever you are.
Compact and lightweight design for easy transportation.
Slim and stylish with a depth of less than 30 cm, the P-45 requires very little space and, at only 11.5 kg, it can be easily moved anywhere in your home or used for performance outside.
Simple operation with just one button
Many of the settings on the P-45 can be changed with a single button. Simply hold down the "GRAND PIANO/FUNCTION" button and press selected keys to change voices, play demo sources, configure the metronome, and so on.
P-45
Dimensions
Width
1326mm
Height
154mm
Depth
295mm
Weight
Weight
11.5kg
Keyboard
Number of Keys
88
Type
Graded hammer standard (GHS) keyboard
Touch Sensitivity
Hard/medium/soft/fixed
Panel
Language
English
Tone Generation
Piano Sound
AMW Stereo Sampling
Polyphony
Number of Polyphony (Max.)
64
Preset
Number of Voices
10
Types
Reverb
Yes (four types)
Functions
Dual/Layers
Yes
Duo
Yes
Overall Controls
Metronome
Yes
Tempo Range
32 – 280
Transpose
-6 to 0,0 to +6
Tuning
414.8 – 440.0 – 446.8 Hz
Connectivity
DC IN
DC IN 12 V
Headphones
Standard
Sustain Pedal
Yes (Half pedal available with optional FC3A)
Pedal Unit
No
MIDI
No
AUX OUT
No
USB TO HOST
Yes
Amplifiers
6 W x 2
Speakers
12 cm x 2
Power Supply
PA-150B or other Yamaha-preferred parts
Power Consumption
6 W (using PA-150 power adapter)
Auto Power Off Function
Yes
Included Accessories
Music Rest
Yes
Pedal/Footswitch
Yes
AC Adaptor
PA-150B or other Yamaha-preferred parts