If I had a pound for every phone call I've had with a bewildered parent, explaining their child has come home after piano practice exclaiming "Help! I need another keyboard. My teacher thinks I need a better one to practice on" then let's say I'd have been able to afford a real Bosendorfer Imperial grand piano by now. Maybe even two.
The digital piano and keyboard market is flooded with model numbers, names, and very similar specs so we understand how difficult it can be to navigate and research on your own.
It can be really overwhelming and hard to know where to start, but do not fear; This is exactly why I am writing this blog.
First things first, what is your child wanting to learn? Are they wanting to learn how to play the piano or are they hoping to be a keyboard player?
They are two very different beasts. For a start, a keyboard player does not need to be playing on an instrument with 'weighted keys' – This is because keyboards aren't meant to feel like traditional, acoustic pianos, but rather provide the player with lots of additional rhythms, accompaniments, and voices.
That is the important factor when buying a keyboard. However, on the other hand, a concert pianist would never play a keyboard without weighted keys. They may even never play a keyboard at all.
Is this all making sense so far? What I first want you to do is assess what you and your child want from learning the instrument. So, for the sake of clarity, I have divided this blog into two similar sections, catering to both outcomes: My child is learning the Piano and My child is learning the keyboard.
There may be some crossover between sections, but there will be some fundamental differences to consider depending on you/your child's preference/needs.
As always, if you have any questions you're very welcome to give us a call on 01295 266 788 or send us your queries on sales@epianos.co.uk
My Child Is Learning The Piano.
So, as I previously mentioned, Piano players need 'weighted keys'. I'd advise getting used to that term because it's one you'll see recurring throughout your search for digital pianos.
The weight of a piano keyboard is very important, and depending on how much you spend, depends on how 'close' to a real acoustic piano the digital version gets. That's all you're trying to do here, you're trying to bridge the gap between digital and traditional.
Ideally, you want your child playing on something as close to a real piano as you possibly can, budget permitting of course!
So what models have weighted keys I hear you ask? Here's a list of products I'd suggest to suit varying budgets: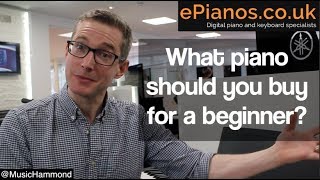 6m
What piano should I buy for a beginner?
ePianos
What piano should I buy for a beginner? - Watch Chris explain what to look for and which model is most popular on ePianosTV.
My Child Is Learning The Keyboard.
Additional bells and whistles like rhythms, styles, and voices are also available, though usually minimal, on the more traditional types of keyboards and pianos, however, we stock a wide range of instruments that would suit any level of keyboard players needs.
Here are a few models of varying prices to suit all needs:
I hope that helps clear things up for you. You can always contact the team on 01295 266788 or email sales@epianos.co.uk for our personal assistance, and don't forget to check out our latest preowned stock too for a good deal!
Used Digital Piano Selection
If you are still having trouble deciding, then why not try our piano chooser? A quick and easy way to find a piano that best fits your needs! Simply click 'Take the quiz'!