Yamaha PSR keyboards
So let's start with the Yamaha PSR keyboards first off, PSR stems from Yamaha's first portable keyboards called 'PortaSound', and the 'R' is just the latest version. With most of these models the keyboard itself is limited to 61 keys (5 octaves), meaning it's perfect for the beginner pianist who's just starting out, maybe as a present for your child, or even if you are later on in life and are looking to start a light musical hobby, the PSR are a great keyboard to go to.
The PSR series have been in popular demand ever since they were made in 1984, with Yamaha having now made over 100 different models of the PSR keyboard. The higher range PSR models include 'touch response', the best of these also having 'Hammer Graded Action'. Touch response allows you to control the volume of each note you press based on how hard or soft you play it. A very important feature for the keyboard to have, as it will really help you work on and develop your 'feel' for the instrument.
As a teacher myself, I really do believe touch and feel for the instrument are just as important as being able to play the parts. The best PSR models that include Graded Hammer Action, excel in this area and make you feel exactly like your behind a real acoustic piano, which is incredible considering it is only a 61-key digital keyboard!
A great feature of many of the PSR keyboards is something called a 'YES' feature, which stands for Yamaha Education Suite. This allows you to learn the keyboard at a much faster and more productive rate. Acting almost as a self learning tool, it comes with built in lessons for each handbook and chord dictionary, plus you can even learn how to play various songs with it too… another reason why the PSR keyboard is well suited for beginners!
But on top of being a great keyboard for those just starting out, Yamaha have expertly designed a feature with the advanced PSR models that allow professional working musicians to use it to their advantage too! This feature styles the keyboards as 'Arranger Workstations', allowing you to perform with these keyboards, create your own music, record and arrange on it. This also includes polyphony, recording features, different accompaniments, a vast bank of different sounds, and internet connection which is a must for the advanced musician as it allows you to upload midi songs straight from your keyboard. All of these features vary in their amounts and abilities depending on how much you are willing to spend on getting an advanced or basic model of the PSR keyboard.
An example of a basic model would be the Yamaha PSR E360
An example of an intermediate model would be the Yamaha PSR EW310
An example of an advanced model would be the Yamaha PSR SX700
Yamaha DGX keyboards/pianos
Next up, we have the Yamaha DGX keyboard… this keyboard is the perfect blend between a digital piano and an arranger keyboard. The DGX-660 is currently the flagship model for Yamaha's 'Portable Grand' line, it is also the only one in the line that has fully-weighted keys.
The DGX is also equipped with a huge selection of different voices, styles and connectivity.The DGX-660 has replaced its successful predecessor, the DGX-650, It comes packed with hundreds of sounds, songs, styles, and rhythms, making it a perfect instrument not only for playing piano but also for learning and making music.
The DGX keyboard really excels in terms of its features in comparison to its younger brothers from the Yamaha P-series models, though unfortunately, all these effects and gadgets on the keyboard really do add to the weight of it, making it slightly less portable than those of the lower models. Though, to counter this, Yamaha has equipped a sturdy stand that comes with the keyboard, and even matches the colour you choose to have it (black or white).
I'd like to talk a bit about the layout of the keyboard… due to its vast amount of features, there are a whole lot of buttons to press and play around with which allow you to jump straight to all of the different options it has, at just the click of a button… literally! The DGX-660 also features a 320×240 LCD screen, which I find is a massive help in terms of navigating your way around the depths of the keyboard.
A really cool feature that Yamaha have equipped with this instrument is the 'Piano Room', which allows you to choose the kind of room you are playing in, for instance; I could be in a concert hall, which would give me a big, rich and perhaps echoey sound as I play, or I could be in a small compact practice room which would deaden the sound but would be perfect if you were planning on just practicing all your scales and arpeggios. On top of this, it even keeps all the other settings you have chosen as well… very clever!
Another great feature that Yamaha have included, much like its younger brothers from the P series, this DGX660 also has 'Graded Hammer Action', meaning that the keys are weighted based on their velocity, so for example the deeper notes on the lower octaves have heavier keys, and the higher notes on the upper octaves have lighter keys, this is to mimic the feel of a real grand, making you feel like you are behind an acoustic.
Ranging between 600-700 pounds, this keyboard is a great value for money, considering the vast amount of features that it has, including the Graded Hammer Action and so much more, at a way cheaper price then the P515.Another thing I'd like to mention with the DGX, is that it is equipped with a 'Pure CF Sound Engine', meaning that it reproduces the meticulously recorded sound of the Yamaha CFIIIS concert grand piano.
This keyboard is also equipped with a very broad range of instrument voices too… 151 to be exact! It has 10 different piano sounds, and hundreds of others on various different instrument voices, which gives you lots of room for creativity. It also hosts 15 drum/ SFX kits +388 XGlite. Meaning you could never possibly get bored of this instrument!
Now you may be wondering "if it has all these sounds, then what kind of speakers does it have?", well… the DGX-660 is equipped with 12cm x 2 + 5cm x 2 built-in speakers with two 6W amplifiers, which produce a rich, well-balanced sound, this really helps meet all of the requirements of all the different sounds and voices it has, and captures them all very well. The speakers are also open-faced, meaning that the sound is projected directly upwards and outwards, giving you a powerful, punchy sound.
Yamaha YDP Arius pianos
Lastly, we have the Yamaha Arius YDP series, as you may have guessed, this stands for 'Yamaha Digital Piano'. You may also have heard of these pianos being called the 'Arius' range. They are the entry-level of digital pianos that Yamaha make for the home market, and there are currently four different models of this series; the S35, S54, 144 and the 164. All of the Arius range pianos are also compatible with the 'Smart Pianist' app which allows you to connect your device to the keyboard using the app, and change the different settings on it as you please, as well as sight-read and much more!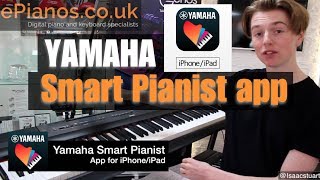 9m
Yamaha Smart Pianist app review for P-125
ePianos
Watch Isaac show us the Yamaha SmartPianist app
Another attribute to mention is that the YDP series looks a lot like a real piano too, with its slick, upright, modern appearance. Starting from the lower end of the range, the YDP144 digital piano is well known for its affordable and compact pricing, offering Yamaha standard quality yet for a great price. This model of the keyboard also includes 10 different voices, Graded Hammer Action and fully weighted keys (much like the DGX660), and 10 voice demo songs and 50 piano songs.
This keyboard is also very simply laid out, making it easier to work and control, yet look good at the same time. It also has dual voice and duo modes, meaning that you can play 2 instruments at a time, which I find is a great addition for playing duets or orchestra parts.
Moving onto the next model up, the YDP164, this keyboard has been fitted with a wide range of features, designed to captivate the aspiring pianist, and still offers outstanding value for money.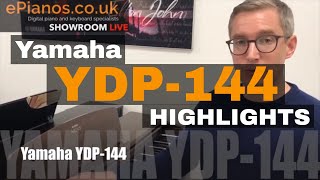 4m
Yamaha Arius YDP144 demonstration | Showroom Live highlights
ePianos
Chris shows us the Yamaha Arius YDP144 digital piano
Upgraded from the YDP144, it has been equipped with 'smooth release', which offers the crisp tone heard when playing staccato as well as the lingering sound produced by releasing the keys more. This provides a finely-nuanced response to the pianist's playing.
It also has 88-key fully weighted keyboard with synthetic Ivory & Ebony keytops, as well as Graded Hammer 3 (GH3) action, on top of this, it is also equipped with a taller cabinet size. All of these features, additional to the YDP164, make it feel and look a huge amount more like a real acoustic piano. In terms of sound, the YDP164 has also been equipped with 2 x 20W amplifiers, making the sound much more powerful, clear, rich, and crisp. The 164 also comes in the colour 'White Ash' which is a personal favourite of mine.
Next, we have the Yamaha YDP S34 model, both of the S-models stand for slimline, meaning they are only a foot deep, rather than the 44cm depth of the other models. This feature gives the piano a more slick, smart look to it and when the lid is closed, it can act almost like a console table, like a desk for you to rest various things on such as picture frames and books, etc.
The S34 model is basically the more compact version of the YDP144, it includes 10 voice demo songs and 50 piano songs, digital reverb, and a Yamaha CFX piano sound. All of these features give the instrument a diverse range of dynamic tones and sounds which are very well projected through its double 6W amplifiers and double oval speaker system. It is also equipped with Graded Hammer Action and matte black key tops which give you the feel of a real piano very nicely.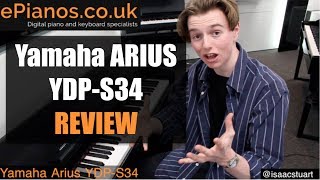 4m
Yamaha Arius YDP S34 review
ePianos
Isaac shows us around the Yamaha Arius YDP S34 piano
Lastly, the Yamaha YDPS54, is a more compact version of the 164, it has a modern design and advanced keyboard functionality. Its upgrades from the S34, include smooth release, Grade 3 Standard Hammer Action keys, synthetic ivory and ebony key tops and two 20W amplifiers. This adds to the keyboard's similarities to a real acoustic and really gives you a better feel for the instrument. I also find it encourages you to play more too, which is also a positive feature to have on a keyboard!
It has authentic acoustic piano pedal behaviour, not just in its sound, but also in its feel too. I should also mention that both the Slimline models have a soft closing lid, giving it that gorgeous finishing touch and again adding to the slick, modern design of the keyboard.
So we have covered Yamaha's PSR, DGX and YDP models in depth, going into all their different features, effects, character traits, styles and functionalities. I hope this broadens your perspective on the instruments and gives you some guidance into what one might be suited for you… until next time!