Hello everyone. I hope you're keeping well. Helen Porter is one of the most experienced and respected piano teachers in our area. I invited her into the store to hear her thoughts about the Yamaha Arius YDP164 piano. I wanted to share with you the opinion of a professional musician on the performance of this particular digital piano model as we have so many enquiries about it from beginners.
We sat down (socially distanced of course!), and discussed the playability, the selection of sounds, and the many practicalities that digital pianos bring. For example; being able to wear headphones, that they don't ever go out of tune, and they're so lightweight compared to traditional pianos. As you'd expect, Helen is a very good pianist in her own right, and she treated us to some excellent demonstrations of the various sounds on the Yamaha YDP164. Sit back, relax, and enjoy watching our video below.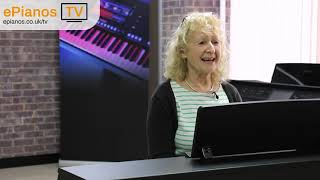 22m
Yamaha YDP164 ARIUS piano | An experienced piano teacher's opinion
ePianos
Piano teacher Helen Porter gives her thoughts on the Yamaha ARIUS YDP164 piano
You might be interested to know that there is a slimline version of the Yamaha Arius YDP164 piano. It's called the Yamaha Arius YDP-S54. It has the same specification but is designed to fit into smaller spaces. I have a blog and a video explaining it all here. The Yamaha Arius series of electric pianos have been extremely popular with people of all ages who are taking up piano. They offer some of the most authentic piano-style weighted keys, and realistic piano voices for under £1000.
I hope you enjoy the video. Sometimes it's just nice to hear a really good pianist at work, isn't it? I plan to bring Helen back to give her thoughts on some more of the Yamaha models. I'm particularly excited to see what she thinks of Yamaha's AvantGrand Hybrid pianos which are a mix of the best features from digital and traditional pianos.
Bye-bye for now and take care.