Hey everyone! Today I am going to be talking to you about the Yamaha Arius YDP-164 and the Arius YDP S54, how they differ, how they are similar, and what particular benefits they have over each other… enjoy! Make sure you check out David's video about this below.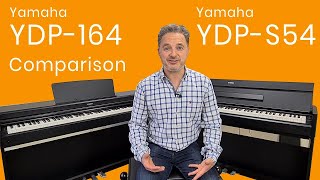 15m
Yamaha YDP-S54 vs Yamaha YDP-164 | What's the difference?
ePianos
David shows us the main differences between the Yamaha Arius YDPS54 and YDP164 digital pianos
So the Yamaha YDP164, is actually the exact same as the Yamaha YDP S54 in terms of its feel, sound, and features. The main difference between the two keyboards is the fact that 'S' stands for Slimline in the S-54 model, meaning, as you may have already guessed, that the keyboard shape slightly differs. It has a thinner depth to it, being about 1 foot deep, rather than the 88cm depth that the YDP-164 has. This is to give it a more slick, modern look which really makes the keyboard look very stylish and allows it to suit the room you put it in, in a more attractive way.
The slimline also has a 'console' look to it, meaning it has a flat surface on the top when the keyboard lid is closed, so you can rest your picture frames or books on it when it is not in use. This does however mean that it loses its slide-in lid, and has a fold over lid instead. Which could be slightly less convenient if the keyboard has been fitted in a tight space. Having this folding lid really does add to the slick, modern finish of this slimline keyboard being as this lid is a slow-release lid meaning it closes softly, adding a very nice touch to the finesse look of the keyboard.
The YDP-164 has a bulkier, more traditional look to it, as previously mentioned, meaning it will only suit certain backgrounds and environments. This also means that you can't use the keyboard as a tabletop as such, when the lid is closed, as it is not a flat surface. So the traditional Arius does come with its minor cons when stood next to the YDP-S54, however it will keep to the more 'classic' look of a traditional keyboard, which can suit some people's preferences more than others.
The two keyboards themselves will feel no different to play and will sound exactly the same. Yamaha has equipped these two Arius' with GH3 weighted keys, as well as 10 voices, advanced recording systems, and many of the features that a real acoustic piano has, such as 'damper resonance', 'smooth release' and 'Intelligent Acoustic Control(IAC)'. They are also both equipped with 'synthetic ivory and ebony key tops', and they both have the 'Yamaha CFX Concert Grand sound' fitted, which sounds just like the real thing! All of this means they are both great to play and really make you feel like you are behind a real acoustic piano.
So with that being said, the Arius YDP S54, is the slimmer, slightly more modern looking version of the YDP 164, suiting more environments, being capable of being used as a console table, and also having the slow-release, folding lid.
I hope you have enjoyed listening/ watching this and that you have found all the information provided useful. Make sure to subscribe to our mailing list for all of our weekly newsletters, updates, special offers, and much more! And the link for these two keyboards will be in the description of the video so make sure you check that out too.
If you are still having trouble deciding, then why not try our piano chooser? A quick and easy way to find a piano that best fits your needs! Simply click 'Take the quiz'!