Hey there everyone! Today I am going to be taking you through what I believe to be the top 3 keyboards to choose from if you are an aspiring pianist, but are moving to university and need something that will suit those specific requirements, let's get right into it…
First off, we have the Korg B2. This keyboard is the lowest priced of all our 88-key, fully weighted digital keyboards that we do.
This keyboard by Korg has the full 88 keys that any full-size acoustic piano has, as well as having 'natural weighted action' keys, giving you a feel that closely resembles that of a real, acoustic piano.
It also has 12 different voices to choose from, giving you lots of variety in sounds. It has 2 great speakers equipped, considering its cost.
I have found that they keep up with the intense playing on the high end and low end of the keyboard, to a reasonably good degree. Though the EQ doesn't give you too much depth and height in terms of its sound, it stays predominantly around the midsection, though for its price, the speakers do a superb job.
The keyboard is also equipped with a metronome feature for practicing purposes. One negative about this keyboard is that it is quite poorly laid out and difficult to navigate, but the plus side to this is that it is more slick and simple looking from the outside view.
The keyboard is also quite heavy for its price and size too, making it slightly less portable. Having said this, it does an excellent job of holding too many of the traits of a real piano for its price and is at a great value for money.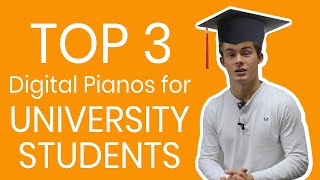 15m
Which digital piano should I take to university?
ePianos
Watch my video where I talk you through all the best options for university
Next, we have the Yamaha P45, this is the lowest of the P series models made by Yamaha.
Again, it has 88 fully weighted keys, this time with 'Graded Hammer Action' weighted keys equipped, meaning the keys are heavier towards the lower octaves and lighter towards the higher octaves, just like that of a real piano.
The layout of this keyboard is more straightforward than that of the B2, though it does have fewer voices to choose from, only having 10 instead of the 12 that the B2 has.
The P45 also has a lot more variety in terms of its metronome, as you can change its time signature, volume, and much more. Weighing slightly less than the B2, this keyboard is perfect for the beginner keyboardist, as it will fit well in the smallest of rooms and still look good at the same time.
One slight downfall for this keyboard is its speakers. Though they have a slightly broader EQ range and produce slightly better frequencies between the high and low ranges compared to the B2, they are not very powerful and don't produce the same amount of volume that the B2 can.
I should mention, however, that all of these keyboards come with headphone jacks which means you can play as loud as you want without disturbing any of your Uni mates!
The last keyboard I would like to recommend to those looking to play whilst at University is the P125 by Yamaha. As you may have guessed, this is the next keyboard up in the P range from the P45, with upgraded and extra features, making it very competitively priced.
Though not the most expensive by quite a significant amount, Yamaha has done an excellent job at making this keyboard worth every penny. Believe it or not, it is actually the lightest keyboard out of the 3 we have looked at, and has the most features and buttons to choose from!
It has 24, high-quality voices, four of them being piano voices, as well as a splitting feature to play two sounds of your choice at once or separately (one on each half of the keyboard).
It also has 50 demo songs for you to listen to as well as an option to have many different drum & bass rhythms accompany your playing! This has to be one of my favourite features of the P125.
It also has an advanced metronome feature and four powerful speakers, two coming from underneath, giving you a nice depth and bass to your playing, as well as two bigger speakers on the top which project the sound upwards, giving you a much louder, clearer and punchier sound as you play.
Not to mention it has an additional 'sound boost' option to boost the volume of your playing even more! So this keyboard vastly outweighs the P45 and the Korg B2 in terms of features, sound, and portability, though it will cost you that extra amount of money as you do certainly get exactly what you pay for with all of these keyboards.
So the Korg B2, is great for its price, with bright speakers which produce a reasonably loud sound, and a wide range of voices to choose from. Though it is the slightly heavier keyboard of the 3 and is quite difficult to navigate if you are looking to play around with all of its features.
The P45 will cost you slightly more, but it is lighter, meaning it would be slightly easier to carry up the stairs of your Uni flat, as well as being more straightforward in terms of its layout.
The speakers, however, are slightly less powerful and don't give you as much of a rich sound as the other keyboards do, particularly the P125. This leads me on to the final keyboard for today, the Yamaha P125.
Though it is the most expensive, it is the lightest and certainly the most compact due to the vast amount of different voices and sounds it has ready to play with. It will also give you a much brighter and more crisp sound as you play, really adding to the qualities that an acoustic piano has.
Just to throw in a 4th option if you have a little more room – Why not have a look at the slimline Yamaha Arius YDP-S34 and YDP-S54? Perfect for fitting into small spaces. And a 5th: If you are really pushed for space yet still want an authentic feeling piano to play then have a look at the Yamaha P121, it's essentially a P125 but with only 71 keys instead of 88.
I hope you have enjoyed and found this video useful, please make sure to check these products out on our website through the links below, and be sure to subscribe to our mailing list for our weekly updates, newsletters, special offers, and much more below. Thanks for listening/ watching!