What exactly is a Livestream video? Well, it's just like one of our regular piano, keyboard, and organ videos but we broadcast them live on YouTube rather than pre-recording them.
One of the best things about this is that we are actually able to answer viewer questions in real-time. It means that if you're watching us live then you can type in a question about the keyboard into the chatbox (pictured below) and we'll try our best to answer you straight away.
We tend to feature a single keyboard or piano in our Livestream videos like Yamaha Tyros 5, Yamaha DGX670, Yamaha Genos, and more.
We focus on explaining a particular feature or function but quite often get happily sidetracked by questions from viewers. That's one of the really nice things about interacting live with people!
Sometimes we concentrate on playing and demonstrating the sounds that these instruments can make, this makes the Livestream a bit more like an impromptu concert rather than a tutorial lesson.
Some of you reading this might remember that David and I used to host in-person tutorial sessions for the Yamaha Tyros and Genos in our town center showroom.
At times, we used to have up to 40 people attending per session. This has been something that has been difficult to resume since our customers have become so much more widely dispersed across the UK – not to mention the pandemic keeping us all at home!
Hosting these Livestream videos and featuring Yamaha Tyros and Genos has been a nice way to reconnect with some of our attendees of 'Tyros Club'.
Another nice thing about hosting Livestream videos on YouTube is that we get keyboard players from all over the world watching along. So far, we've had viewers from the USA, Brazil, Australia, The Netherlands, and more.
It's actually really lovely to connect with fellow keyboard enthusiasts across the whole planet, especially as the viewers can chat with each other too and make friends. The power of the internet to make this possible is quite a magnificent thing, wouldn't you say?
David and I are currently debating how often we can host the Livestream videos. As many of you know, we are a relatively small team here at ePianos and it's not always easy to make time to fit them in, plus we're currently a little short-staffed (see our current job vacancy here!). Soon we will attempt to start routinely hosting two Livestreams per week with the possibility of a third focusing on organs.
So far, we've filmed 17 Livestream videos, and don't worry if you've missed them because you can watch them all again by visiting ePianosTV by clicking here.
David even managed to continue filming them from his spare room when he was self-isolating due to a member of his household getting covid.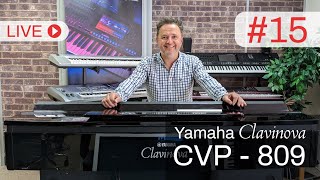 1hr 15m
Casual Keyboards LIVE (#15) Yamaha CVP-809 Styles, Registrations, and Playlist
ePianos
Watch David host a Livestream video featuring the Yamaha Clavinova CVP-809 digital piano.
As ever, the videos are all about meeting the needs of our customers, so we want to hear from you, please. What instruments would you like us to feature in the upcoming episodes? And do you prefer a tutorial-based video? Would you like more playing? Or a combination of the two?
You can submit your suggestions, or ask a question for us to answer by clicking right here or simply by emailing us at sales@epianos.co.uk.
If you're not already on our e-mailing list for notifications about upcoming videos, then you can sign up for free by clicking here.
Take care, everyone!