Upgrade to an Orla RS620 EU!– Our Lowest cost to Upgrade Ever!
Following Orla's collaboration with Ringway, the RS620 was launched and the neat, contemporary, very compact organ has become a big hit.
Current Price
£1,699
Orla RS620 EU Highlights & Features
At only 18 inches deep and 44 inches wide the Orla RS620 offers a stylish and very compact home organ. Finished in a very shiny black polyester, it's smart appearance is home to over 300 sounds and 200 styles, including 150 from Orla's "super style" library- and the USB included by Whitley Bay Organs will ensure you get 80 preset registrations so that you can find some great combinations of all those sounds and styles.
The Orla also includes a freeze facility for the left hand allowing you to freeze the style from any registration and use a sound set up from a different one, giving you literally hundreds of options.
Ringway has also cleverly set up each factory preset in the organ to use the split keyboard facility, this effectively creates a third manual, with a suitable sound set to the right-hand end of the Lower Manual to make a good musical change by simply moving from playing on the Upper to playing using the Split section. To make life easy the split point is set in the same position for every preset and any octave changes in the voices required have been set ready to use.

All of the factory presets have been designed with the home enthusiast in mind too- and all of the popular sounds such as Organs, Mantovani, Strauss, Glenn Miller, Shearing, etc. have been covered. The team at Orla has also been careful to balance all of the preset registrations so that it works well to move from registration to registration within a section without sudden volume changes.
For those especially into theatre organ sounds, Orla has used their links with Reg Rawlings of Total Transformation Technology to include some Blackpool Tower Wurlitzer sampled sounds. The range chosen includes beautiful tibias, tibias and voxes and full organ samples.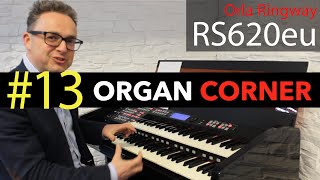 23m
ORGAN CORNER #13 | Orla Ringway RS620eu Organ Demonstration
ePianos
Watch David playing on the Orl RS620 EU for a quick Demonstration
David Says:
"You get some very realistic solo instruments alongside many beautiful organ presets, and with the newer styles and voices developed by Ringway you'll be able to find those sounds you've been looking for with ease.
The RS620 includes a built-in USB port and we'll include a memory stick which will have loads of registration files to select from, which will help supply you with some great registrations already made up for you."
If you have any questions or would just like to get in touch, please just give us a call on 0191 257 1666 or email us at sales@epianos.co.uk
All the best – David and the team