Hi everyone. Today we're traveling back in time to 2016 (seems like a lifetime ago, doesn't it?). David was responding to the many questions we received to do with the EQ settings on the Yamaha Tyros 5. If you don't know what the EQ settings are don't worry – it's just a fancy way of shaping the sound of the keyboard to your own liking, a little like you would on a HiFi system.
But why is this important? I'll tell you. If you imagine the moment a Yamaha Tyros keyboard comes off the production line (yes, I know they're not made anymore and have been replaced by the Yamaha Genos), as you'd expect they are all built and set up in precisely the same way. But this standard set-up may not be optimal for the type of room that you are playing in. You might have your Tyros in a little man-cave studio, or a large sitting room, or an open-plan kitchen – can you imagine how different the acoustics are in these different settings? Here's an interesting experiment for you to try: Clap your hands together in your bathroom, and then do it in your sitting room. There will be a very noticeable difference!
Featured in this post
So, with this in mind, you can tweak the EQ settings to better suit your own personal situation. Experiment with them and see what a difference it makes. Don't worry about making any catastrophic changes, you can't really break the Tyros simply by pressing buttons, plus there's a really handy trick to reset everything too! A very good place to start is using the 'smiley face' technique that David suggests in the video. Watch his full video below.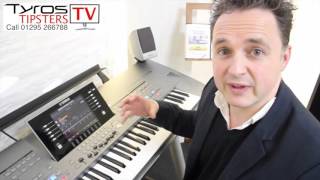 3m
How to use the EQ controls on Yamaha Tyros 5
ePianos
Watch David explain how to use the EQ controls on the Yamaha Tyros 5