We've all been there, haven't we? You've had a good night's sleep, a nutritious and delicious breakfast, you've taken the dog for a walk in the beautiful morning sunshine.
Then you sit down to play your favourite tunes on your beloved Yamaha Tyros and something isn't right…. the split-point has moved or the fingering style has gone astray, perhaps the pedal isn't working properly.
It is most certainly nothing you have done. It seems as if someone sneaked into your home overnight and fiddled with all the keyboard settings just to drive you mad!
Featured in this post
This situation can cause many grey hairs to appear….and then be torn out in frustration!
Finding the cause of the problem can be baffling and feel like a terrible waste of time. Luckily we have a very good remedy to this type of problem which doesn't require any investigative work at all.
It's called a 'soft reset' and it's a very VERY simple procedure that usually fixes little problems like the ones described above without doing any damage to your keyboard settings. Don't worry it will not delete things like registrations and songs etc as long as you do it properly.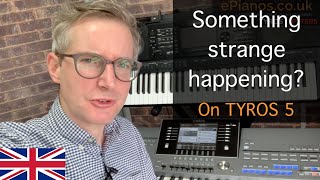 5m
Something strange happening?
ePianos
Watch Chris explain how to fix most Tyros problems instantly!
Ah! it's so simple when you know how! – All it took was a bit of button pressing and fingers crossed you're back up and running. You can now sit back down, replace the hair you've torn out, apologise to the dog for being grumpy and start playing.
Hopefully, this will be a useful tip for you to hold onto and use in the future, it doesn't take long and can fix all sorts of issues. Just don't forget to make sure there is only that single tick in the box or you will be in danger of deleting precious things.