If you're hearing the term 'digital piano' for the first time, images of large, clunky, spaceship-looking & not-so-piano-like visions may spring to mind. However, I'd like to confirm before we move on that this is not the case. Although a relatively new creation (the first 'electric piano' was invented in the late 70s, compared to acoustic pianos which have been around since 1700s!) designers have worked hard over the years to ensure digital pianos stand tall (and pretty) amongst the traditional aesthetic of acoustic uprights & grand pianos, and so you'll be glad to know they look as good as they sound. 
Don't worry about how it'll fit in your house; I've no doubt they'll be a model that works for you, from both a playing and furniture perspective. In light of this 'search' you may be on, I thought I'd suggest my top 3 Yamaha digital pianos that I think would work in any living room, whatever the budget… 
Oh, and I must mention this… With the current COVID restrictions, we've made it our mission to bring the showroom experience to our customers virtually. So we've started 'ePianosTV' where you can watch our huge selection of product reviews, demonstrations, and comparisons. Click here to check it out: https://www.epianos.co.uk/tv/
Yamaha CSP170
The CSP170 is one of my favourite digital pianos Yamaha have released. Whether you've been playing for years or you're just getting into playing, the CSP range from Yamaha (and particularly the CSP170) is a fantastic instrument to suit anyone's living room. 
The 'S' in CSP stands for smart and this is exactly what it is… The beauty of this range is its ability to offer tools to help you play and learn, making it ideal if you have children that are learning too. You simply download a free app (also made by Yamaha) on your iPad/Tablet and, once connected to the CSP, you're able to access a huge range of voices, styles, rhythms and lessons. It gets better: not only are there 100s of pre-installed 'songs' you can learn (ranging from pop hits to your much more classical pieces) but the CSP has 'waterfall lights' that trickle down on a panel above the keys, allowing you to learn all these songs by following the lights. It's a fantastic technique and you're guaranteed positive results in no time at all. I've had people in the showroom come in who haven't played Piano for years, sit down at the CSP and within 20 minutes or so be playing an Elton John song because of how effective the lights are. Just think how brilliant it would be after a month or two of practice!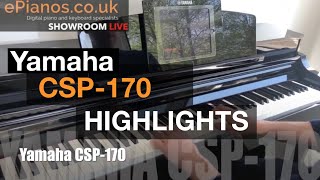 3m
Yamaha CSP170 Clavinova demonstration | Showroom Live highlights
ePianos
Watch Chris using an iPad with the Yamaha CSP170 piano
Now as mentioned in the introduction to this blog, aesthetics are everything for a living room piano and the CSP170 does not disappoint. The beauty of having an external app on a tablet means the actual cabinet design is slick and buttonless… you wouldn't know it wasn't a real acoustic piano unless you looked behind and saw the plug! 
The CSP170 also features Yamaha's CFX Grand Piano sample which is quite honestly gorgeous, and also has the NWx keyboard which not only has synthetic ivory & ebony keys, also has wooden keys too. This means it will not only sound like you're playing on a £125,000+ Yamaha Acoustic Piano, but it also feels like one too.
You can read all about the CSP range on our website here.
Yamaha Arius YDP164/S54
I wanted this blog to feature digital piano ideas to suit all budgets, and the YDP164 & YDPS54 certainly cater for those who want a good quality instrument without breaking the bank account. 
This range is the lower end of the digital piano spectrum, but alas with Yamaha you're always spoilt for quality regardless of how much you spend. The YDP164 is exactly the same specification as the S54, it's simply the design that differs. You'll see the YDP164 has a traditional piano design, looking more like a regular upright Piano, whereas the S54 offers a much more modern, slimline aesthetic.  We explore the differences in detail in this blog and video.
Both have weighted keys so it feels like a real piano to play and a really lovely piano sound built in too. There are about 10 voices within the piano you can flick through with some buttons on the side of the piano, and a 2-track recording feature should you want to take advantage of that. Otherwise, it's very simple in it's features which leaves no room for distraction if you're the type to get excited by all the bells and whistles digital pianos can sometimes hold (like me…) 
The YDP range are smaller in size compared with my other suggestions on this blog (the YDPS54 is just 1,353 mm compared with the CSP170 which is 1,412 mm wide) which makes it perfect for those of you who are hard pushed for space or want something a little more compact, without compromising on design. 
You can read all about the YDP range on our website here.
Yamaha Clavinova CLP745
The Clavinova range are Yamaha's flagship digital Piano range and the CLP745 is always the one I use as the perfect introduction to in my opinion a perfect digital piano.
The CLP745, unlike the two models below it in the range, has an NWx action (yes like the CSP170…) which means you're playing on something that your fingers glide across. It makes you want to play longer because of how amazingly responsive it is. 
Not only that but the CLP745 has a 16-track recorder built into it which is perfect if you're wanting to record and compose your own songs – Even if it's early days for you, this is the sort of thing you need to consider when investing in a digital piano. You may not need the features straight away, but no doubt they'll come in handy in the future. 
Colour wise you have plenty to choose from; The CLP745 comes in Black, Dark Walnut, Polished Ebony, Rosewood, White & White ash. You can view all colours and read more about the CLP range here.
If you have any questions or queries please do not hesitate to get in touch with us. You can call us on 01295 266 788 or email us on sales@epianos.co.uk