Yamaha is brilliant when it comes to rolling out new updates for their existing models, and we're here to welcome the 2.10 update with open arms! Best of all it's free! But what does this update actually do? Well, there are three main components to this update. Allow me to shine a light on the subject.
To update your Genos or SX, see our instructions here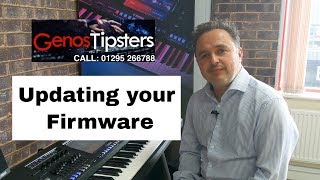 7m
How to update Yamaha Genos firmware
ePianos
David explains how to update your firmware on the Yamaha Genos workstation
Tempo – Firstly, tempo adjustments can now be made from the home screen! This makes editing the bpm's of styles and metronomes much less fiddly. Just simply use the main jog wheel when you have tempo selected to increase or decrease the speed! Handy, am I right?
Selectable dial behaviour – Secondly, you can now select if you want the data dial to automatically load content when you have it highlighted, or if you want it to be loaded after you press 'Enter'. This is just another way to protect against altering settings without meaning to. This feature gives you an extra step to think about what you are changing.
Used Keyboard Selection
Longer Style Creator options –  Instead of just 32 bars we now have a whopping 128 bars to add to our homemade Styles. This change will allow more creativity when making new Styles in the Style Creator section, potentially meaning that some well-known songs can be made very accurately.
CLICK HERE TO PURCHASE OUR PRE-LOADED USB STICK WITH WRITTEN INSTRUCTIONS.
Remember, it's not totally essential to upgrade your keyboard's firmware unless you're particularly interested in the new functions that it brings. So don't feel that this change is mandatory. Plus, when a newer version comes out, it always includes the previous versions within it, so you can skip a few and not have to update each one in turn.