'This is a songwriting machine!' my neighbours would hear me shout excitedly. It must have come as a surprise to them as I was wearing headphones while playing my piano. I suppose there would have been long minutes of silence punctuated with superlatives like this and other musically inspired grunts and groans. No wonder they always looked at me suspiciously.
When I lived in a small flat I didn't have much room for a piano. I could barely put the ironing board up. Like many musicians, having my instrument to hand was far more important than things like ironing anyway. I needed a piano that felt and sounded great, one that I could record onto without messing around with a computer (for often inspiration comes fleetingly!), one that wouldn't take up too much space and could be folded away if needed. And perhaps most importantly of all – one that would inspire me to write. I needed a songwriting machine. Oh, and did I mention that (again, like many of my fellow musicians) I didn't have very much money either?
Step forward the Yamaha DGX (The latest version is called DGX670). What an utterly brilliant instrument this was for making music, and so excellently suited to my situation. I could jump on the piano whenever inspiration struck me, any time of day, and whether it was for hours or just a few minutes the DGX was a one-stop for the creativity to flow. No need for messy wires and connections to a computer. I could simply lay down up to 6 tracks straight away to the piano's memory. I could add, piano, strings, bass, drums, pretty much whatever I wanted as there was no shortage of sounds to choose from. The thing I loved about this piano was it was all there built-in, all I needed to write and record, at my fingertips. And it would start that creative fire burning inside me. It really was a perfect little songwriting tool.
Once I had recorded the seed of an idea onto the DGX, I could very easily transfer it onto a USB and then to a computer for editing in recording software. The quality of the piano's audio, particularly the piano and strings, were so good that very little would have to be tweaked. Although fellow songwriters will know that it's almost impossible to 'finish' with a song once it's in the mixing software. How is it that time travels so quickly when you're mixing down a song?
Oh! While writing this I've remembered an old video I made on the DGX650. It was a few years back now and I'm a little sad at how much younger I looked, but it shows some of the basics of what I'm referring to in this blog. Have a look below: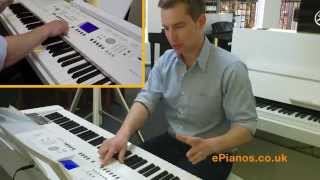 3m
Yamaha DGX650 Digital Keyboard – Great for songwriting!
ePianos
Watch Chris demo layering parts for a song on Yamaha DGX
Now, about that 'not having very much money' bit. The Yamaha DGX was well under £999, and still is. For a keyboard with a fully weighted key action and a huge amount of other functions, this is excellent value. I must stress that although I was aware of other brands and had tried very many, the Yamaha always felt 'premium' to me. Indeed, the attention they pay to their key mechanism alone warrants some deeper reading, and having gigged with Yamaha portable pianos for years I know them to be extremely robust and reliable too. In fact, on the way to a gig once I smashed our guitarist rear windscreen with the end of my old Yamaha P80 once. The keyboard was totally fine, not a scratch! Haven't heard from the guitarist for years though.
Overall, as a songwriting machine and as an instrument for creative expression, the Yamaha DGX will always have a special place in my heart. The clever bods at Yamaha update them roughly every 4-5 years and are now up to the DGX670. Digital piano technology (like most tech), is improving rapidly, so we can expect the DGX670 to be a big jump from the one I'm demonstrating in the video above. Imagine what will be available to the flat-dwelling songwriter over the next 10 years! Going back to the whole issue of not having any money (or having 'financial constraints'), you can often pick up a bargain by buying an older version. For example the DGX660 or DGX650.
If the Yamaha DGX670 had a little brother I'd say it was the Yamaha PSR EW410.
If the Yamaha DGX670 had a big brother I'd say it was the Yamaha CVP805. (ok, more like a richer and more successful bigger brother)
If the Yamaha DGX670 had a cousin I'd say it was the Korg XE20.