I've spent some time recently playing Yamaha's top-of-the-range Clavinova digital piano: The CVP809, and boy I'm always surprised by how engrossing it can be, even to just sit and 'noodle' with a few different voices. I've spent over a decade playing everything new that Yamaha has come up with and this model really represents their finest work to date. I absolutely love it!
With so many options, in terms of voices, to choose from it becomes apparent that you will need a quick and easy way to save your 'work'. That's to say if you've laboured for hours and hours setting up the piano with the perfect sound, you want to be able to come back to it at a later date after you've turned the piano off. Luckily this can be done in with a simple process which is what I'm going to explain in the accompanying video.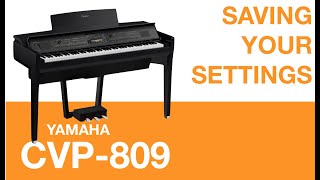 6m
How to save your settings on Yamaha CVP809
ePianos
Watch Chris showing how to easily save your settings on the Yamaha CVP809
As you can see in the video it's actually pretty simple (if you know how!) and the good news is that size of the memory is almost limitless as it's only saving configurations of voices, styles, etc which are already on the piano rather than adding anything extra. The 8 registration buttons which you can see in the video are very helpful as you can save variations of your settings in a single batch. For example, you could save a whole batch of 8 for a particular song and build up the accompaniments and you go through the numbers.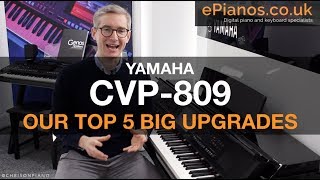 11m
The NEW Yamaha CVP809 Clavinova piano | Our top 5 BIG upgrades
ePianos
Watch Chris getting excited by the brilliant Yamaha CVP809
I hope that was helpful to you lucky Yamaha CVP-809 owners out there. The boys and girls at Yamaha are pretty good at keeping the operation of their pianos relatively similar from generation to generation, so if you're planning on trading in your older CVP model you can rest assured you'll have no problem figuring out how to use the new CVP800 series models. By the way, if you really want to find out how much you'd need to pay upgrade to a new CVP805 or CVP809, you can use our trade-in contact form and get a price quickly by clicking here.
More videos to come soon. If you would like a particular function or feature covered just email me below and I'll see what I can come up with for you! – Best wishess to everyone and go wash your hands!