You lucky old CVP800 series owners. You really have a special piano, do you know that? I absolutely loved playing the CVP809 in this video. It is a beautiful instrument that truly inspires you to play. In the video below I show you how to mix sounds on Yamaha CVP809 (specifically, piano and strings with some choir thrown in for fun), but the methods I show will work on the CVP805 too. You may find however that some of the best string sounds are missing as CVP805 has a rather limited selection compared to CVP809. Not that you can't have a ball with the CVP805 I must stress! It's just that those really, really spine-tingling 'KINO' strings are absent.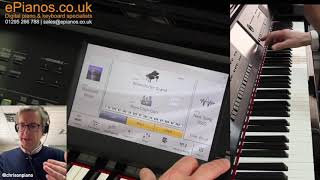 9m
How to mix sounds on Yamaha CVP800 series
ePianos
Watch Chris showing how to mix nice piano, strings and choirs on Yamaha CVP809.
Piano sounds (referred to as 'voices') are the bread and butter of the Yamaha CVP800 series. Yes, there are a huge amount of extra functions and features available but these alone are such fun. There is a big selection of orchestral and string voices on both CVP805 and CVP809, and Yamaha have been very clever in offering so many variations because not everyone likes the same type of strings. Some string voices can be quite overwhelming and don't blend very nicely with the piano. Instead, I prefer to use a softer, slightly-delayed string sound to compliment the piano voice.
Featured in this post
Generally speaking, mixing sounds on Yamaha CVP800 series pianos is easy. On the home screen, you can see the MAIN voice and there is a button next to it called LAYER. When these are highlighted, the selected voice will be activated. This means that you can have a secondary (or LAYER) voice pre-loaded ready to go while you're playing the MAIN voice alone.
While mixing sounds on Yamaha CVP800 series typically limits you to only two voices, you do have the option to mix three together if you select a main voice from the sub-category called 'PianoLayer'. Here you will find a selection of pre-mixed voices featuring pianos and various string/synth pad combinations. When selected, this combined voice becomes your MAIN voice leaving you free to add an additional LAYER voice, and hence you have x3 voices in total mixed together.
As well as the MAIN and LAYER voices you may have noticed that a LEFT voice is also an option on the home screen. The LEFT voice is primarily there to give your chord-triggering hand a bit more of a boost while using an accompaniment. I've found that it works nicely if you add a synth pad voice or soft-strings to it. Come to think of it, I remember David using the LEFT voice quite effectively in his 'Left Bank Two' set up on Tyros and Genos. He selected a banjo which gave the effect of it being strummed and it worked really well! There are limitless ways to be creative on these instruments and have fun too.
I hope that was helpful. Lot's more to come soon! – Make sure you're signed up for our free e-newsletter for updates.