On Tuesday afternoon I hosted a Livestream video showing tips and tricks on the Yamaha Genos keyboard and spoke with the viewers as they left comments and asked questions. It proved to be a big success and very popular with our Genos owners community. Don't worry if you missed it, because you can watch the entire 1 hour and 25-minute show by clicking the video below. Remember though, what you watch below is a playback of the live event, so I can't interact with you! But you can leave comments and questions below the video which we respond to.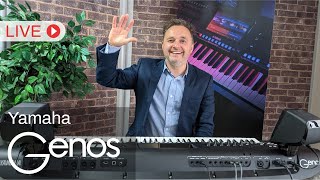 1hr 25m
Casual Keyboards LIVE (#2) – Yamaha Genos tips and tricks
ePianos
Watch David host "Casual Tuesday #1 - LIVE Tips and tricks on the Yamaha Genos"
We are just beginning to do Livestream videos here at ePianos, and we hope to schedule many more of them soon. If you would like to be notified of when the next live video is happening then make sure you are signed up to receive our weekly newsletter email here. (If you've just received an email from us, then you don't need to sign up).
OUR NEXT SCHEDULED LIVESTREAM BROADCAST IS TUESDAY 13TH JULY AT 3PM BST. (GMT+1)
Chris hosted a test broadcast a couple of weeks ago on the Yamaha PSR SX-700/900 keyboards which you can watch below. He covered several topics that will be relevant for Genos owners, as the two keyboards use the same operating system.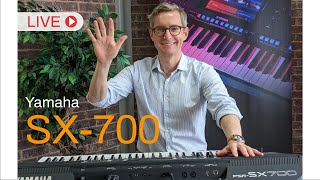 53m
Casual Keyboards LIVE (#1) – Yamaha PSR SX-700/900 tips and tricks with @chrisonpiano
ePianos
Watch Chris's live test broadcast showing tips and tricks on the Yamaha PSR SX-700/900 keyboards.
If there are any particular functions or features that you would like us to cover in future live stream videos, then please email us on sales@epianos.co.uk or use our contact form by clicking here. We rely on you for giving us the material for our videos and we appreciate your support! The Livestream videos are proving to a great way to feel connected with our customers at a time where visits to the shop are somewhat restricted due to covid. (You are able to book appointments to visit us by the way!).
You may, or may not know, that we already have a huge selection of 'Genos Tipsters' tutorial videos which are available to watch on ePianosTV by clicking here. And we also sell the most comprehensive guide on how to use the Yamaha Genos keyboard: The Genos Tipsters Information Guide, which featured over 200 pages of written guides and 10 hours of DVD videos. (Also available in individual parts, and as a download version for instant access here)
I would like to say a big thank you to everyone who tuned in to watch my Livestream video. It was fun to speak with so many of you watching from all around the world. And your questions have given us lots to work on for the next session. We will see you all again soon!