If you're wanting the short answer then here it is: Yes. You can replace a real piano with the Yamaha P515. If you want the long answer, and want to know why – keep reading…
Firstly, I think it's wise to clarify what a 'real' piano actually is & why the P515 is not a 'real' piano.
To put it simply, when you open up a real piano you're met with thousands and thousands of intricate parts: Hammers, strings, a soundboard, dampers, felts… the list goes on. These parts come together like an orchestra of engineering in the most wonderful way to create a real (usually lovely unless it needs a good tune) sound. The source of the sound being – the strings.
However, with a digital instrument, if you were able to open it up and look inside (which you can't for safety reasons!) you would be met with something that resembles more like a computer than an instrument.
There is certainly a board, but it doesn't help with the sound, but actually runs the entire 'system' of the keyboard and tells the computer when and what to play according to when you hit the keys. You can tell I'm not an engineer, but you get the picture!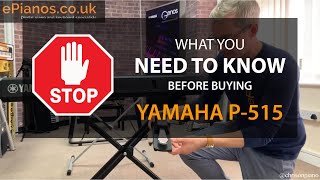 7m
What you NEED TO KNOW before buying Yamaha P515 | What piano should I buy?
ePianos
Here are some important things to consider before buying a Yamaha P515 piano
There is nothing quite like the natural resonance of an acoustic piano, but Yamaha has worked tirelessly to ensure the quality of the sound and touch of their digital products are as close to the real deal as possible. So, how does the P515 fare against the big boys?
The beautiful thing about the P515 is the NWx keyboard action it possesses.
Now for most of you, that term will probably mean absolutely nothing, but I can assure you it's a big deal! In layman's terms, where you see NWx on the spec of a Yamaha keyboard, you can be assured that not only are the keys weighted like a real grand piano (i.e the keys down the lower end of the keyboard are heavier and the keys at the top end are lighter…) but the [white] keys are also made out of wood, further mimicking that of a real grand piano.
It makes for an almost indistinguishable comparison and is one of the best feeling digital instruments I've played to date.
Not only that, but the sound you hear on the P515 uses Yamaha's CFX Grand Piano sampling. Now I've been lucky enough to play one of Yamaha's actual CFX Grand Pianos (which are upwards of £100,000 by the way) and from first-hand experience, I am seriously impressed with how they've recorded the sound.
Naturally, the P515 doesn't give you the full resonance of a real grand piano, but if you're considering a P515 in the first place, I suspect it's due to practical reasons and therefore you'll be aware that compromises have to be made.
I for one would love nothing more than a grand piano, but unfortunately, I don't have the means (or enough roadies!) to travel about with one.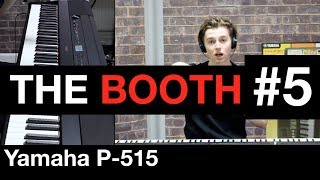 40m
The Booth #5 | Yamaha P-515 | A composer's thoughts on this piano
ePianos
Watch Isaac's long play in The Booth with the Yamaha P-515 portable piano
If you're the same as me, and you want something as close to a Grand Piano as possible to tour/write with, then the P515 is the perfect option.
It'll stand loud and proud in pubs and village halls, should you be a performer. It has x 2 15 W + 5 W amplification and with no need to tune (as it's digital) you can simply plug and play.
If you have any questions at all please let us know by leaving a comment or feel free to email us on sales@epianos.co.uk. Happy playing!