It's no secret there's a HUGE amount of choice when it comes to picking a Digital Piano with weighted keys. To help you choose, we've narrowed it down to 3 top choices as the summer of 2021 comes to a close.
Let's jump right into it – We've chosen a model we love for various budgets, so hopefully, you'll be able to find something that suits you.
Less than £500
Korg B2
Our favorite digital piano with weighted keys under £500 is the Korg B2. We have no hesitation recommending this to anyone as it is a fantastic all-rounder with fully weighted piano-style keys, 12 sounds, and superb built-in speakers that are perfect for home-usage.
The Korg B2 is able to capture the enormous tonal range of a grand piano, which really impressed us.
£500 – £2000
Yamaha CLP-735
The next level up has to go to the Yamaha Clavinova CLP Series. Specifically, the CLP-735. It takes digital piano playing experience a few steps further with the additional features such as Virtual Resonance Modelling, so it closely mimics a grand piano with painstaking attention to detail, even down to how it reacts if you accidentally leave a music book on some keys whilst you're playing!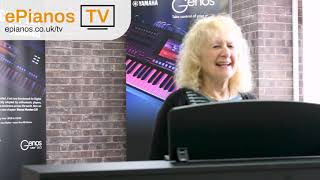 30m
Yamaha CLP-725 piano | A professional piano teacher's opinion
ePianos
Helen Porter gives her thoughts on the CLP-725 from Yamaha
But don't take it from us! We asked Helen Porter, a local acoustic piano teacher, to come to the store and let us know what she thought of the CLP-735's little brother, the CLP725. Watch the video above.
£2000+
Yamaha AvantGrand NU1X
If this is more your budget then you're really in for a treat. The Yamaha NU1X Hybrid not only looks stunning but sounds incredible, and is unrivalled when it comes to authentically reproducing the touch of a traditional piano.
This hybrid digital/acoustic model has proven very popular amongst piano purists for its highly accurate piano response, and it's classic cabinet design.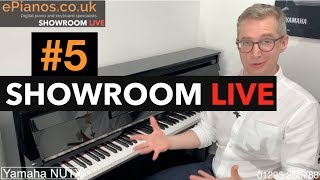 7m
Showroom Live #5 | Yamaha AvantGrand N1x vs Yamaha Nu1x Hybrid piano review
ePianos
Chris takes a deep dive into the Yamaha NU1X
Chris has made a video to show you what makes the NU1X so special. Check it out above.
If you are still having trouble deciding, then why not try our piano chooser? A quick and easy way to find a piano that best fits your needs! Simply click 'Take the quiz'!