I promised myself that I wouldn't play the Yamaha DGX670 until I had all the cameras set up ready to record. I wanted to document my learning experience during my first long play on this piano. Whoooosh! That all went out of the window when I made the terrible mistake of noodling a few notes of the main piano. I was instantly hooked, and couldn't tear myself away from it for the next 20 minutes. The piano sound was significantly better than I was expecting. As a pianist, you look for a certain response from a piano. Particularly an electric one. Something that will indicate to you that if you put feeling into your playing, you'll get something back in terms of dynamic range. I was pleasantly surprised to discover that the main piano voice on DGX670 gives you a warm hug and invites you in to play. The piano voice is of course only 1% of the DGX670's capabilities. This is a piano made for far more than simply playing piano in the traditional sense. The fact that I was already sold on it after experiencing this 1% should tell you a lot.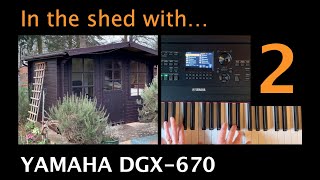 20m
Yamaha DGX670 (part 1) | In the shed with… (ep#2)
ePianos
Chris is in the shed with the Yamaha DGX670. Covering the 'Unison & Adaptive' styles + more...
Moving beyond simply playing the DGX670 as a piano, I opened up the Style section and started to explore. (for the uninitiated, when I say 'Style', I'm referring to the built-in accompaniments. Think of having a band or orchestra join in with you automatically). A couple of new style features on DGX670 are called 'Unison' and 'Adaptive' styles. These essentially make the said backing bands a little more human-sounding by having them respond to your harder or softer inputs. Give the keys a little bit of a harder tap, and the drummer will oblige you with a crash cymbal. The effect is very good and you find yourself actually playing with deliberate accents every now and then, rather like you might in a well-rehearsed band. Previous editions that lacked this did have a certain robotic element to their backings. (Look out for part 2 of this series for more on this….)
The video that I've recorded mostly covered what I've mentioned above, but I do explore some of the extra voices, including classical guitar which warrants a special mention. The classical guitar is one of the 'Super Articulation' voices that show off Yamaha's genius at making real-sounding instruments. You may be able to tell in the video that I'm quite taken with the guitar (I think I played it for 10 minutes!) because the included 'Super Articulation' technology really makes the sound natural. By this, I mean you can actually hear the guitarist's fingers sliding over the frets, and if you play a little harder you can hear the strings of the guitar slapping against the fretboard. This technology achieves the very difficult feat of allowing a pianist, like me, actually sound like a guitarist. Think about it, I am in fact playing the keys of a piano, but the technology has the tricky task of making it sound like Julian Bream is sat in the room with me. And it does it, very, very well.
If there are any functions or features that you'd like us to demonstrate in future videos, then please just let us know. We have new videos coming up which will cover more of the 'Unison and Adaptive' styles, and some on the 'Piano Room' feature too. Just email us or leave a comment below the video. Byebye for now.