John: What have you got there Chris?
Me: It's a Yamaha CP88, John.
John: Ah, right. Is it like my Yamaha P-515?
Me: Yeah, kind of. It's portable – just like yours. It's got a wooden keyboard – just like yours. And it's got 88 keys – just like yours. Oh, they also do a 73 note version, but that one has plastic keys.
John: So, how's it different from my P-515?
Me: Well… it doesn't have speakers built-in like your P-515, but I play with headphones mostly anyway.
John: No need to inflict your playing on anyone else I guess.
Me: Good one, John.
Featured in this post
John: Is the sound quality as good?
Me: It's pretty much the same, I'd say. But you can do more with it.
John: What do you mean?
Me: Well, it's got pianos, strings, guitars…
John: So does my P-515.
Me: I know, but it's different on CP88.
John: What is?
Me: The way that you actually use them.
John: Wait, what? How exactly do you 'use them' differently?
Me: Well, um. How should I explain this… um… Tea bags!
John: Tea bags?
Me: Yeah. Tea bags.
John: Ok, Chris. Have you received a blow to the head over the past 24 hours?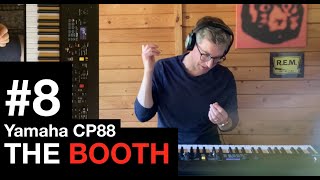 26m
Yamaha CP88 piano review | The Booth #8
ePianos
Watch @chrisonpiano exploring the main piano voices on the Yamaha CP88
Me: You're a funny person, John.
John: Thank you. Get on with your tea bag story then.
Me: Thank you. I shall. Playing a P-515 is a little like shopping for tea bags at a supermarket.
John: I've always thought so…
Me: You can walk down the tea bag aisle and choose anything you like, as long as it's Tetley, Yorkshire Tea, PG Tips, etc. Any of the brand names.
John: Or Earl Grey?
Me: Well, yeah ok. I'm gonna say yes.
John: What about camomile, or peppermint?
Me: John, I'm trying to tell a story here.
John: Sorry, J.K Rowling. Do carry on.
Me: My point is, you can buy any tea bags that you like, but you are limited to what brand names the supermarket decides to offer you. And if you were to go into any supermarket in the country, the tea bag selection would be 99.9% the same. That's what playing the P-515 is like, John. You're drinking nice tea, sure, wonderful in fact. But, you're consuming the same pre-determined blend as every other person who buys tea bags from those supermarkets. There's nothing that allows you to be unique. Do you get what I mean?
John: Yeah, ok. So, how is playing the CP88 different from sticking to brand-name tea bags? I can't believe that sentence just came out of my mouth by the way.
Me: Don't worry, I won't tell anyone. With CP88 you can choose your favourite tea bags if you want to, no problem. But where it starts getting fun is that you can actually hand-pick your own tea leaves and create your own special blend of tea.
John: You have a very strange sense of fun, Chris.
Me: Another classic, John.
John: A-thank you. I think I get what you mean. But can I have it in plain English now, please?
Me: Ok. On the Yamaha CP88, instead of having your voices pre-determined and practically set in stone, as you do on P-515. You are able to literally create your own from the ground up using a huge array of parameter adjustments and layers. This allows you to make your own unique voices that you won't find on anyone else's CP88. If you're a creative type, then it really does allow you to make a sound that is truly your own. The CP88 allows you to change from a consumer of tea to a creator of tea.
John: Sounds pretty good. But I can already mix voices together on my P-515, and play with the effects.
Me: True, but only in a very, very basic way with reverb and chorus, and you can't save them to the piano's memory. On CP88, firstly, you have over 60 more preset voices, including a much bigger selection of pianos, plus you can layer x3 together, adjusting their volume levels and tone at the turn of a dial. You can tweak them using things like Drive, Auto Pan, Tremolo, Ring Modulator, Touch Wah… I could go on and on.
John: Can you really go on?
Me: Yeah. Pedal Wah, Compressors, Chorus2, Flanger, Phaser, Distortion. Separately assigned digital and analog delays.
John: What's the difference between digital and analog delays?
Me: I don't know, John. Nobody does.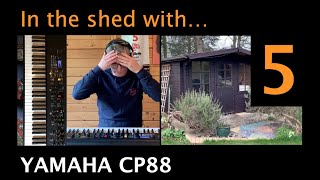 31m
Yamaha CP88 pad and synth strings | In the shed with… (ep#5)
ePianos
This time it's the pad and string sounds on the Yamaha CP88
John: So, my P-515 isn't good enough for you, eh?
Me: I'm not saying that at all, John. In fact, I think the P-515 is one of the best stage pianos that Yamaha have ever made and is beautifully simple to use. But, my point is that they're rather one-dimensional. Someone could sneak into your house at night and swap it for someone else's P-515, and I don't think you would even realise! With a CP88, you can really make it your own, and consequently, become rather more emotionally attached to it.
John: I see what you're saying, Chris. But, I have started using the Yamaha SmartPianist app with my P-515. It's really good and lets me play my music collection through the speakers and save my settings. That makes things a little more interesting. Is there anything like that on CP88?
Me: Yeah, there's a Yamaha app called 'SoundMondo' which allows me to save my settings to my phone, and share them with other CP players around the world. I have access to loads of other players' settings too, including some top professionals. I can also jump on any other CP88 and download my settings to it, which is really cool.
John: So, if simplicity is what you want, then P-515 is for you. But, if you want more flexibility and to actually fall in love with your piano, then buy a CP88? Is that the gist of it?
Me: Wow, you've been listening to me for once, John.
John: Who said that?
Me: You're still a comedy legend, John. Never change.
Thus ended the conversation.
If you are still having trouble deciding, then why not try our piano chooser? A quick and easy way to find a piano that best fits your needs! Simply click 'Take the quiz'!