Yamaha Clavinova CLP735 vs CLP745
What are the main differences between these two popular Clavinova models?
With the highly anticipated CLP 700 series from Yamaha being released this Autumn, people are eager to know what the differences are between the new models, in particular between the CLP 735 and 745.  Physically, they stand at almost exactly the same size, with the 745 just slightly topping the 735's height by about 15mm. So what's the difference?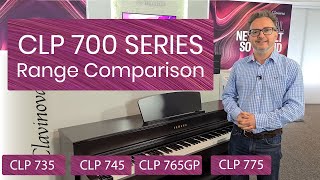 6m
Video
David shows us through the entire Yamaha CLP700 series range
With both models residing at the more affordable end of the 700 series, they do share a few similarities, for example, in terms of their keyboards, both use Yamaha's new GrandTouch-S system, which offers an authentic playing experience by differing the lengths between the black and white keys, like on a traditional grand piano.
A major difference between the two models is the use of real wooden keys used on the 745, as opposed to the polymer keys on the 735. This adds to the playing experience and authenticity of the 'key action', as wooden keys are used in acoustic grand pianos, as such providing the feel you would experience with an acoustic piano.
Featured in this post
The primary difference between the two models however is the speaker system. The CLP 735 uses a stereo system with two 16cm (6 inch) speaker drivers, with 60 watts of power. By contrast, the 745 incorporates a more capable 2-Way stereo system, with two 16cm (6 inch) woofer drivers and two 8cm (3 inch) full-range drivers, with 200 watts of power
This upgraded speaker system in the CLP 745 results in a far richer, fuller sound, in contrast with the 735 which can sound quite 'boxy' in comparison. The final feature seen in the 745 but not in the 735 is the ability to connect the piano via Bluetooth to your smart device, allowing you to wirelessly play music through the speaker system on the 745, or transmit MIDI data.
Overall, the CLP745 is the superior piano and likely to have more longevity than the CLP735.