If you're wondering what the difference is between these two models, then this Yamaha CLP725 vs CLP735 blog is for you. Naturally, there are many things that are the same on these two models, but the purpose of this blog is to explain what the important differences are to help you decide whether it's worth spending that little bit extra.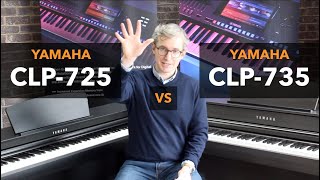 37m
Yamaha CLP725 vs CLP735 piano comparison and buying advice
ePianos
Watch Chris explaining the key differences, giving his buying advice, and playing the CLP725 and CLP735
Firstly, look at the cabinet designs themselves. Notice how low the CLP725 is in comparison to CLP735? The CLP735 has a much more classical face to it with its taller box shape. CLP725 is 849mm high. CLP735 is 927mm high.
The CLP735 cabinet is actually bigger in every respect. It is taller, wider, and deeper front to back. Overall, the CLP725 can be considered a compact digital piano. Great for small spaces etc. CLP735 is more like a piece of furniture in the style of more traditional pianos.
I should also mention that weight of these two pianos is quite different too. The CLP725 is comparatively light at only 43kg. The CLP735 is 57kg. Nowhere near the weight of traditional pianos of course. I find moving the CLP725 quite a bit easier than the CLP735 but I can comfortably manage to move both around a room unassisted.
The way that you control these two pianos is very different too. CLP725 is by design uncluttered and minimalist. It is not immediately obvious to the user how to navigate the various features and functions.
Maybe you won't mind this if all you want to do is turn it on and play. The CLP735 has a similar traditional look, but a glance at the neat little LCD screen on the left instantly tells you which sound you have selected, and it's pretty clear how to change sounds, record, and do all the other things that are available to you.
For extra clarity, the CLP735 is also equipped with the handy new 'Piano room' function which for those of you who liked the sound of just 'turn on and play' is ideal.
You simply press the Piano Room button and start playing. On the LCD screen, you will see a large representation of which piano you're playing and you can make adjustments like lowering the lid of the piano which alters the tone, or changing the simulated environment from 'living room', to 'cathedral', and others, for different spacial effects.
When learning to play piano it's very helpful to be able to record your playing and listen back to it. And if you're a composer of music, it's vital to be able to store your recordings.
CLP725 is very limited in this respect, only allowing you to record one song with two layers to its onboard memory bank. The CLP735 however, offers far more capacity with slots for an amazing 250 song recordings. CLP735 also allows you to layer up to 16 separate tracks in a single song, and with 38 voices (things like strings, synths, guitars, etc) compared to CLP725's 10, there is much more scope to be creative with your recordings.
The CLP735 also has many more ways that you can tweak the voices using effects like reverb, chorus, and brilliance.
Featured in this post
It seems to me that the CLP735 is much more tailored to someone who is learning to play. Another indicator of this is the fact that it includes 303 'Lesson songs'.
These are a selection of very commonly used piano pieces that teachers around the world will be familiar with as they're regularly assigned to budding pianists to learn. These 'Lesson songs' are absent from the CLP725, although both models do include at least 50 classical pieces of recorded music covering varying skill levels.
You are able to play these back through the piano's speakers, and if you turn the volume high enough you can attempt to fool your neighbours into thinking you're a world-class pianist. More practically, you are able to play back the left and right-hand parts individually, which allows you to practice the opposite parts one-handed.
Both models come with the sheet music for these 50 songs in a rather nice book.
Would you ever want to take what you have recorded on the piano and put it on a computer? I'm guessing you might. It's so much easier to do this on the CLP735. All you need is a USB memory stick.
The CLP735 even gives you the option to convert your recordings to the more computer-friendly .wav file format using its USB Audio Recorder. There is no 'USB to device' slot on the CLP725, nor are you able to convert your recordings from the original MIDI, into .wav format.
This doesn't mean that you can't transfer your recordings from the CLP725 to a computer, it just means that, for most people, the process is quite difficult and won't give the desired results.
CLP735 trumps CLP725 on several other connectivity issues too. CLP735 has the standard MIDI IN/OUT and THRU connections, but CLP725 has none. CLP735 has a dedicated audio input and output, but CLP725 has none.
Comparatively speaking it appears like CLP725 is actually doing its best at stopping you from connecting it to anything else! Overall, the CLP735 is clearly designed to be much more compatible with modern technology and the way that people use pianos today.
The actual playing experience itself feels markedly different between these two pianos for a few reasons. I've seen plenty of new players in our showroom switching between these two models, and without fail the CLP735 always brings bigger smiles to faces. The first reason is obvious. The CLP735 has a superior array of amplifiers and speakers.
This produces a richer, fuller sound. But the thing they really get excited about is the effect that Yamaha's brilliant 'Binaural Sampling' technology produces. Particularly when playing with headphones.
The recorded piano samples that we hear on these pianos have been recorded from separate locations. Actually, two sides of a mannequin's head (where the ears would go!) and are subsequently sent through the appropriate left and right channels.
This might not sound special to you watching at home, but the experience is really surprisingly immersive and evokes that all-important emotional connection with the instrument. The reason I bring this up is that the CLP725 only has Binaural Sampling on one of its main piano samples, the Yamaha CFX concert grand.
The CLP735 however, has it on both the main piano sounds, the Yamaha CFX and the Bosendorfer Imperial Grand. The sound from the Bosendorpher while using headphones on CLP735 is just magical, and if you're a piano enthusiast you are going to be in for a real treat.
Used Digital Piano Selection
On the subject of playability. There are more sensitivity settings available on CLP735. (6 on CLP735 and 4 on CLP725) This means that you have more scope for compensating by altering the touch sensitivity.
In layman's terms – If like me, you have a rather heavy touch on the piano, this allows you to give it more of a thump while playing and not have the speakers suddenly bark loudly at you. If you have a lighter touch, then you can do the opposite and you won't be required to play overly hard to produce a sufficiently loud sound.
Again, this seems like a small thing, but don't underestimate its importance. You can see the overall picture that's building, can't you? The CLP725 really begins to look like a basic model, which it is to be fair!
I must mention that both the CLP725 and CLP735 are compatible with the excellent YamahaSmartPianist app. Which is loads of fun. Check our video here to learn more.
Once you've done your learning for the day, or if your patience has run dry, or if your child's attention is lagging. The CLP725 doesn't offer much else to keep your interest. The CLP735 on the other hand has some fun features for you to enjoy.
One of them is the ability to add an accompaniment to your playing. It's not as elaborate as the backing seen on the sister CVP range of Clavinovas, but it's still great to be able to play piano along to an authentic-sounding drum beat and bass guitar line. There are 20 different styles of rhythm to choose from.
You can also use a split feature on CLP735 that allows you to simultaneously have one voice on your right hand, let's say piano, and another on your left hand, like an upright bass guitar. The mix of these two voices together is pure jazz, and believe me, nothing in this life so far has caused me to write the words 'pure jazz' together, so it must be good.
In summary, when the capabilities and specifications of the CLP735 are lined up against the CLP725, the CLP735 is clearly the piano that is more sympathetic to the way we use technology today.
We expect good connectivity from our digital products and the CLP735 delivers where CLP725 does not. In fact, CLP725 is surprisingly under-equipped. The CLP735 is definitely a better assistant for you as you learn to play, with its extra songs and recording facilities. The CLP725 is rather one-dimensional in this respect. Regarding the playing experience itself, the CLP735 has the most crucial of ingredients; magic.
Caressed in the right way, it will transport you and send a tingle down your spine. Music lovers will know the benefits of that are invaluable. The CLP725, while having the lower price tag, is rather strangled by its hardware and software limitations, as, I suspect, will be your ability to express yourself as you progress as a player.
My advice? Don't artificially limit yourself with the CLP725 if you can afford not to. The jump to CLP735 isn't a very big one financially speaking (approx £400-£500), but the benefits will pay you (or your children/students) back with interest over the course of the learning journey.
If you are still having trouble deciding, then why not try our piano chooser? A quick and easy way to find a piano that best fits your needs! Simply click 'Take the quiz'!