The Korg SV2 is Korg's newest offering to the stage piano market, following on from it's hugely successful (and similarly as sexy) predecessor the Korg SV1. However, the SV2 takes things one step further, and is a huge step up in quality. I can comfortably say it's one of the best stage pianos you can get right now and here's why...
First and foremost, it looks amazing. In fact, it's the best-looking stage piano on the market. It has a gorgeous vintage design, with the kind of smooth curves you'd see on a 1930's art-deco car, and the new white finish (though it does come in Black too) adds to its' statement aesthetic. The Korg SV2 is the exact sort of stage piano you want to be playing when you're out gigging; You just look so cool playing it. In fact, it took me a while to even play the damn thing because I was too busy admiring it's design. 
Similar to the Yamaha CP88, when you sit at the Korg you're met with a panel of various knobs and buttons, separated into convenient sections, and it is super easy to navigate as everything you could possibly need is laid out perfectly in front of you. What I like is Korg have really owned the 'vintage' theme with the SV2, and you can tell this by the absence of an LCD screen; It's so refreshing! Everything is tactile and the buttons make a click, and the knobs make a tick… changes to voices can be made so easily, you really are in the driver's seat. But instead of a car, it's more like a plane or a spaceship (but way less difficult to navigate!)
It all feels very retro with the Korg SV2, like that of a Fender Rhodes Mark II from the 70s. The yellow glow of the KORG Valve Reactor shines from the left hand side of the panel, which has been a real staple piece for the SV range. At the click of a button, you get a lush warmth and snarl to the voices (works great on a Wurli…) which you simply can't replicate on other stage keyboards. Korg have nailed it.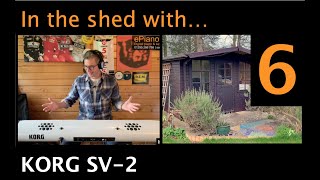 26m
My take on KORG SV-2 in 2021 | In the shed with… (ep#6)
ePianos
Watch Chris demonstrating the KORG SV-2 in The Shed (of dreams...)
I've always been a Yamaha man for pianos and in my dream world, a Yamaha grand piano would be sitting in my studio right now. However, Korg have gone all out for the SV2, and their 'Japanese grand' samples (which I assume must be that of a Yamaha) are gorgeously recorded, and you can't not be immersed when you're playing. Something I have to mention is that the Korg SV2 now has a version with built-in speakers (the SV-2s), which was a revelation to me when I found out, as the SV1 didn't have a built-in speaker option. They stand loud and proud with 2x 15-watt speakers, perfect for home practicing and performing in small venues. 
It's not just pianos they nail, there are over 128 voices built-in, ranging from strings and synths to vintage electric pianos and none of them disappoint. Having previously owned an SV1, I was already well aware of Korg's excellent ability to model not only amplification and effects but also instruments too (and not just piano). The electric pianos featured on the SV2 are the best I have ever heard digitally. I'm not sure what magic is behind the recording/sampling process, but it must be with fantastic people and very expensive microphones because I can't fault any of them. The tone of the Fender Rhodes transports me instantly to a jazz bar in the 70s, smoke-filled and low-lit… it's gorgeous and made even more irresistible when adding a little bit of reverb for a little shine. 
Something to bear in mind is the weight of the Korg SV2, which comes in at 21.45 kg (white version) which isn't a comfortable lift. It's very much doable, but comparing it to a Yamaha P125 for example, which you can quite easily stick under your arm, the Korg SV2 will require a little more oomph to shift around from place to place. I'd always advise using a padded gigbag with wheels for the most convenient way of transporting. 
The Korg SV2 would be an incredible addition to anybody's performing setup and one that will not only make you sound great, but look great as well. 
You can read all about the Korg SV2 on ePianos here.
Remember, if you have any questions please get in touch. We're on hand 10am till 5pm 6 days a week on 01295 266 788 or sales@epianos.co.uk