Hi there, Max at ePianos here, and today I want to look at the differences between YDP144 vs YDPS34.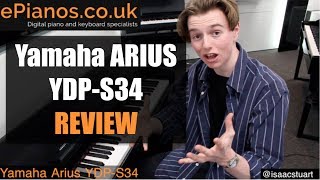 4m
Yamaha Arius YDP S34 review
ePianos
Isaac gives an overview of the slimline Yamaha Arius YDP-S34 piano.
Firstly, what may come as a surprise is that the features, sound system, and feel of the two keyboards will be the exact same.
The main difference between the two is that the S34, 'S' standing for slimline, boasts a modern, stylish look, offering a more traditional acoustic piano playing experience.
Whereas the YDP-144 has a slightly different shaped cabinet and may look more like a Clavinova, or a traditional piano for example.
The Slimline version of this YDP keyboard, as you may have guessed, comes in a thinner cabinet, being only about 1-foot deep, whereas on the YDP-144, it is approximately 88cm.
Another huge difference in terms of the shapes of these two keyboards is that the Slimline version comes in a 'console' shape, meaning that it has a flat surface when the lid is closed so that you can rest your picture frames and books on the keyboard.
This also makes it much more like that of a piece of furniture, meaning that not only will it sound great, but it will look great in pretty much any environment too!
The YDP-144 however has a slanted surface when the lid is closed, meaning you can't place anything on top.
This is due to it having a sliding lid rather than the folding, slow-release lid of the S34. However, having this bigger, slightly more 'dated' look to it, really gives the YDP-144 a more traditional keyboard look, and will certainly suit some preferences more than others.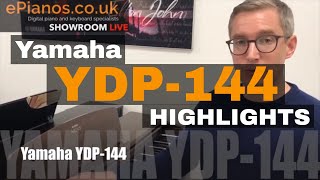 4m
Yamaha Arius YDP144 demonstration | Showroom Live highlights
ePianos
See Chris explain the benefits of the Yamaha Arius YDP-144 piano.
Both of these keyboards come with all the same relevant spec, such as a Yamaha CFX Piano sound, giving you access to one of Yamaha's very own acoustic piano sounds, 'Damper resonance', 'Acoustic Optimizer', and the GHS keyboard with matte black keytops.
All these features give both keyboards the feel and likeness of a real acoustic upright piano in a superb way. Not to mention that the keyboards also have 10 different voices to choose from, 10 voice demo songs, and 50 piano songs.
So to summarise, the Slimline version of this Arius keyboard by Yamaha will come in a thinner cabinet, and with a more modern, stylish look to it.
Whereas the slightly older YDP 164, will have a more traditional keyboard appearance. Both keyboards will perform and behave in the same way, and give you plenty of entertainment and room to grow in your musical passion!
I hope you have enjoyed reading/ listening to this, and that it has given you all the necessary information you need to know about YDP144 vs YDPS34. And do subscribe to our mailing list (look below) for all of our weekly newsletters, special offers, deals and much more!
Thanks again,
Bye for now.
Still not sure which model is right?
Our experts have created a quiz to find the perfect model for your needs. Introducing Piano Chooser 3000 - Click the button below to begin...