The Unison and Adaptive styles on the new Yamaha DGX-670 piano are moving the experience of playing alone at home (or in your shed!) closer to playing with real people in a band. In previous versions, the accompaniments were very good, but they had a certain robotic character to them and a lot of button pressing was required to make your performances more dynamic. With the new Unison and Adaptive styles on Yamaha DGX670, you have some new ways to interact with your virtual backing band to make them behave like a real-life group would.
Featured in this post
In the latest video recorded in my shed of dreams, I demonstrate a few of the styles that use the Unison and Adaptive styles. I also demonstrate a lesser-mentioned feature called 'Simple Style', which can be activated by pressing the 'Simple' button in the style control section.
This takes away the majority of the instruments in the accompaniment leaving you with a pretty stripped-back group. It works very well if you want to play a song that the style wasn't originally intended for. As you'll see, I play Billy Joel's 'My Life' using a style that was probably intended for an Elton John song. Watch the video below.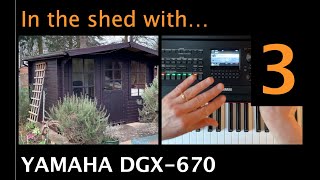 13m
Yamaha DGX670 | What are Unison & Adaptive styles? | In the shed with… (ep#3)
ePianos
Chris demonstrates the Unison and Adaptive styles on a Yamaha DGX670 piano
So, as you can see, it's quite good fun, isn't it? I was certainly enjoying myself! Part of the joy of playing live is the interaction you have with other band members. This is never going to be perfectly matched when playing alone with a keyboard, or with any piece of fancy technology. But the Unison and Adaptive styles are a step in the right direction. And I keep coming back to the incredibly good price tag for a DGX670. You really get a lot for your money with these pianos.
If you're reading this and considering buying a Yamaha DGX670 and have any questions, just get in touch. Indeed, if you would like a particular function or feature demonstrated then let me know and I'll try to include it in the next video. We've got so much more to cover on this model. Recordings, backing control, voice blending, microphone inputs, transferring to a computer, whether it'll fit in a car! – Just ask away!