The Yamaha DGX670 is a great piano for singer-songwriters, or for any pianist that wants to accompany a singer. Plug in a microphone and you can play the piano and sing at the same time.
Your voice will come clearly and strongly through the DGX670's onboard speakers. This 'plug and play' setup is ideal for playing in smaller venues like cafes, pubs, village halls, etc.
Of course, you have open to you a huge array of sounds other than piano, and a big selection of semi-automated backing band tracks. Make sure you check out some of our demonstration videos for more on this.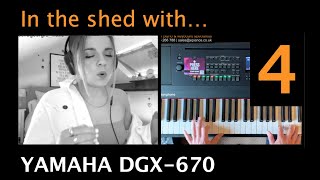 5m
Yamaha DGX670 | Playing with a singer | In the shed with… (ep#4)
ePianos
Watch the DGX670 being used as a backing piano for a singer
In the video above, we took a previous recording of Flo singing 'Dreams' by Fleetwood Mac. I used the DGX670 to provide a full-band backing track, and I played piano over the top.
I was also taking advantage of the very clever 'Unison and Adaptive' styles to give the backing a more natural feel.
As a pianist, I found that being able to listen to the singer and add accents (like cymbal crashes) in the right places was crucial in adding colour to the whole performance.
When I was trying to choose the correct backing style to use on the performance, it was a bit tricky to find one that didn't spoil Flo's singing – I didn't want too many instruments playing at once to distract from her.
So I used the very handy 'Simple' button in the accompaniment section. This removes many of the instruments from the backing track, usually leaving you with simply the drums and bass.
There is also the option to pick and choose individual instruments within the backing (and revoice them too!). So you can really make the backing tracks your own.
The first thing I needed to do was to practice playing along with Flo's singing. I did this by getting a .wav file of her singing on a USB stick and inserting it into the DGX670.
You can then easily play the file back through the onboard speakers and play the piano on top. After learning the chords (which are mercifully easy!), I started in introduce a full backing track.
Matching the tempo wasn't too difficult, being mostly a matter of trial and error, but of course, it would have helped to know the actual tempo in advance.
As I explained above, the style I ended up using was a simplified pop/rock backing. The reason being I wanted to keep the performance relatively faithful to the original Fleetwood Mac version. And I think we pulled that off pretty well.
However, while I was experimenting a little bit, I found it quite fun to try totally different styles, like Latin, Country, and Electronic Dance. As long as the chords were correct, and the time signature and rhythm not too unusual, then the backing music would fit.
Sometimes I would stumble upon something that really worked unexpectedly, and it was really fun! I may do a re-mix at a later date. Using different chords can be fun too.
I hope you enjoyed our video. We hope to produce some more featuring Flo (and other singers) soon, so stay tuned. Bye for now.