The Beatles – The Long And Winding Road | FREE registration for Yamaha SX900 'mini Genos'
Filmed live from Chris's house during lockdown in March...
We're all on a Long And Winding Road now aren't we? Perhaps that's why the song has been in my mind lately. The Yamaha SX900 is such a capable keyboard for when you need to save a little space (like when working from home!). I had great fun making this registration for the classic Beatles song and you can have a copy of my set-up for free.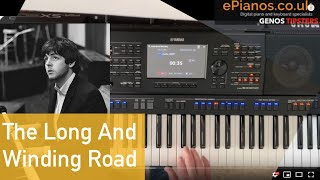 5m
Video
Watch Chris's performance of 'The Long And Winding Road' on the Yamaha SX900
All you need to do is send me an email at: sales@epianos.co.uk and I'll send you a copy which you can put on a USB stick and onto your own SX900 to have it set up just like I have in the video below. (David is doing a Genos version soon too).
You might like...
5 reasons to upgrade from a Tyros 5 to a Yamaha SX900
To see our complete Yamaha SX700/900 special offers including trade-in costs click here. Reason 1. It's much more affordable than […]