My most recent purchase has been the Yamaha CP88 stage piano and I have to say I couldn't be happier. Due to travel demand for shows and sessions, I had to say goodbye to my lovely white Yamaha Clavinova and make the natural change to something more easily portable.
However, having become used to playing on an instrument so close to feeling like a traditional acoustic (and if you closed your eyes you wouldn't know the difference!) my expectations were high, and I did not want to compromise on quality, just for the sake of portability. Alas, I played the CP88 and was instantly impressed.
Featured in this post
When I played the first chords, I knew this was a serious instrument, built for professional pianists. The Natural Wood Graded, Hammer Action makes for a smooth and effortless playing experience, and one that matched, if not exceeded my experience with the Clavinova.
I played a range of pieces when trying the CP88 out, to see how the keys reacted to varying degrees of speed, style, and power.
I had no issues and in my opinion, the action is faultless, and having wooden keys with synthetic ivory & ebony keytops makes all the difference. I was instantly inspired and excited to explore more features.
Now, assuming you're reading this blog post in the search for more information on the CP88, it's worth noting that it does not have built-in speakers.
At first, this put me off slightly (purely because I like my instruments being instant and no fuss), however, I already owned a pair of Yamaha HS8 speakers (which I use in my home studio), and having tried them out with this setup, I was most pleased with the quality.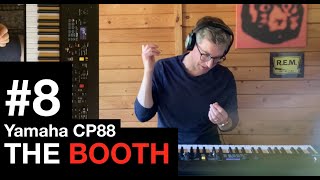 26m
Yamaha CP88 piano review | The Booth #8
ePianos
Watch Chris exploring the Yamaha CP88 stage piano in The Shed.
The CP88 has 10 piano voices, 14 electric piano voices, and a further 33 'sub voices' ranging from strings to synths… all of which sound brilliant.
What I love about the CP88, and what comes in handy when playing live, is the ease in which you can flick from one sound to another, or merging two (even three!) voices.
The array of neatly placed knobs and buttons on the panel above the keys at first glance looks a little complicated, but after further excavation, it could not be made easier.
Each voice category has its own dedicated section of the panel which contains effect knobs and buttons. This makes for such simple navigation, as adding an effect or changing a sound is as easy as pressing a button or two or turning a slider.
I did of course have my 'live performance' hat on and for those that are looking to simply have a home use digital piano or keyboard, then I'd urge you to have a look at the Yamaha P515 as a possible alternative.
Something I was slightly concerned with is the weight of the CP88, coming in at 18.6kg. It's not an easy lift on your own, especially if you compare it to the Yamaha P125's slimness, though it does fair lighter than the P515 weighing in at 20kg.
The deluxe stage piano gigbag we sell here at ePianos (which I use) makes transporting the CP88 so much easier and safer – I'd recommend a gig bag with wheels any day of the week!
If you have any questions or queries please feel free to give us a call on 01295 266 788 or drop us an email on sales@epianos.co.uk.