Should I upgrade to Yamaha Tyros 5?
Have you ever considered upgrading from a Yamaha Tyros 1, 2, 3 or 4? - David explains some of the best new features to be found on Yamaha Tyros 5 and why upgrading to this model has been so popular.

Hi everybody! David here. Hope everyone is doing well. We're slowly returning to normal here as staff have mostly all returned from working at home and we're even able to offer visits to view/play our pianos keyboards and organs by appointment. (wearing masks of course!)
I wanted to share a video with you I made recently about upgrading to a Yamaha Tyros 5 keyboard.
People who currently own one of the previous models like Yamaha Tyros 1, 2, 3 or 4 often have questions about extra functions and features that the Tyros 5 has over their current keyboards, so I wanted to talk about what I think are the best reasons to change and why so many people choose to do so.
By the way. Did you know that many people are changing to the new 'mini Genos' Yamaha SX900 instead? – It's really worth a look. You can read Chris's article and watch his video by clicking here.

For the 61 note Tyros 5, add £100 to the price
I hope that everybody has been using the past few months of being at home to get extra practice on your keyboards and pianos! It's certainly been a testing time that's for sure but having a piano and keyboard at home has just about got me through. The collaboration that many of you took part in was so much fun too! Thanks again to everyone who got involved!
That's all for now. I hope you enjoy my video below and remember if you have any questions you can simply call us on 01295 266788 or email sales@epianos.co.uk – We even have a clever little page on our website where you can request a part-exchange quotation – Click here to give it a go. Bye for now!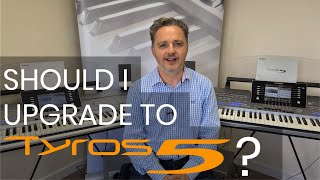 42m
Video
Watch David explaining the top reasons to upgrade to a Yamaha Tyros 5