Hello everyone! – I hope you are all doing well and enjoying your music. It seems the weather has finally turned on us, doesn't it? And the clocks have gone back too. Oh well, time to treat yourself some new books perhaps? This week I have found some really nice copies of some classic series and a few unusual ones too. So take a look and see if there's anything that takes your fancy. I have selections of x5 books for keyboard, piano or organ. You can go ahead and click-to-buy right here on our website or simply give me a ring on 01295 266788. I look forward to hearing from you! Remember that these selections will ONLY BE AVAILABLE THIS WEEK, so act fast! –  This week I have:
Piano
Mary Poppins Souvenir Song Album, Fiddler on the Roof, Andrew Lloyd Webber More Easy Piano, Disney Hits, Vocal Selections from Mame
Keyboard
Big Band Hits, Keyboard Cocktails – Marches, The Complete Keyboard Player – Abba, The Complete Keyboard Player Book 2, The Complete Keyboard Player – Christmas Songs
Organ
Organ The Complete Organ Player Collection, Come Dancing, Sing-a-long Songbook, POP, Show Tunes, Gershwin
Music is incredible for bringing back long-lost memories. Some melodies just seem to stay stuck in your mind forever! I heard Chris playing something familiar in the showroom the other day and I realised after a while that I had heard it in an old TV advert for Hovis bread! He mentioned that he'd made a video about it and there is even a free registration that you Tyros and Genos players can claim too. I'll put the video below for you to watch. Take care everyone and I'll be back with more 'Mel's Music Books' very soon.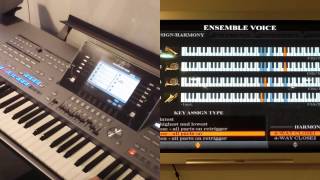 3m
Hovis advert music (Largo) – Yamaha Tyros 5 (claim your free registration too)
ePianos
Watch Chris playing the Hovis advert music (Largo) on Yamaha Tyros 5 - And claim your FREE registration.