Part of seeing a great movie is not just what happens on screen but also the soundtrack. Music is an essential part of cinematic experiences and the great movies often have great soundtracks. Jurassic Park is one of those movies. Even hearing the music now takes me back to the first time I saw the film at the cinema. The multi Academy Award winning John Williams was the composer (who else?) and what a fabulous job he did conveying the wonder of the film.
I wanted to recreate this theme music myself and the Yamaha Genos is the perfect machine to allow me to do so. At it's simplest you can load up a generic 'Movie Soundtrack' setting and the music will cleverly follow your inputs at your own speed, and using the 'Freeplay' technology it never sounds as if it's racing off ahead of you. I'm not required to complicated chords or fast passages, the orchestra follows at my own speed, it's fantastic!
If I wanted to I could delve into the settings and change the strings sounds, or add a choir etc, but in this case the preset arrangement is suitable enough. With four simple variations of style control (A, B, C and D) I can ease the orchestra from a gentle beginning through to an almighty climax, and again the keyboard obliges by changing the instrumentation as I change variation. What an excellent machine this is!
You can watch the whole video below and why not sign up to our email updates? Just email us at sales@epianos.co.uk or call 01295 266788. Bye for now, Chris.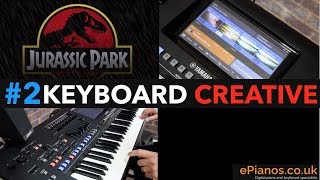 9m
KEYBOARD CREATIVE | #2| Jurassic Park Theme made easy with Yamaha Genos
ePianos
Watch Chris playing theme music from 'Jurassic Park.