Hi all, I'm back filming videos at home again thanks to the current COVID situation. I hope that looking at my terrible 1970s style carpets in the background doesn't upset you too much (no offense to any 1970s carpet pattern lovers out there).
While I was experimenting with my Yamaha SX900 I remembered how much fun can be had when you begin to play around with the built-in styles.
You can really get stuck in and make big changes, which of course is all part of the fun! Read on, watch the video, and try it for yourself!
Now, you might be familiar with using the auto-accompaniments (backing styles) on the Yamaha PSR SX-900 'mini Genos' keyboard, but you may not know about all the variations that you can get if you use the Live-Control knobs and the STYLE-TRACK-MUTE function.
In this video, I'll give a few examples of how you can change the preset backing styles into something very different.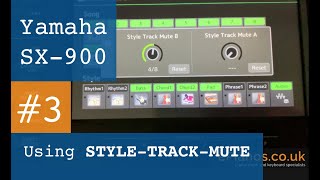 13m
How to use STYLE-TRACK-MUTE on Yamaha SX900
ePianos
Here's the video! - Watch how to freshen up your backing styles using Style-Track-Mute on the Yamaha PSR SX-900
Not too shabby eh? – One thing I'd really like to do is incorporate the Chord-Looper feature with this. We could have some serious fun then.
That's one thing I've really liked about this new edition of Yamaha's S-series keyboards; they let you change things on the fly, and it's easy to do so. In theory, every performance you do of any particular song could be different each time you play it, in a good way.
I've played in countless gigs for bands over the years and one thing I always enjoyed was being able to vary our repertoire during performances and feed of the atmosphere of the room. It's part of the enjoyment of being a musician.
That's all for now. Leave any comments or questions below. Let me know what you'd like to see me cover in the next videos. But most of all go and get your SX900 out and enjoy yourself. Oh, and wash your hands.