Hi everyone. The 'Piano room' feature on Yamaha CVP800 series (and CVP700 series) is so simple. It's a really good idea if you just want to switch on and 'jam' along with a band with no extra hassle of setting up voices and style. I find it really nice if I've got something cooking and just have a few moments to play. It allows me to just jump straight in and play along. The options on the screen are very easy to follow and although there are plenty of options it's up to you how involved you get. It also defaults to the very clever 'Full keyboard' fingering style which means I can play like a traditional piano accompanist, rather than just playing a chord with my left hand and melody with the right. Note you can change to the usual way of left-hand-chords if you want. You can of course make some basic changes like tempo and voice selection.
Just like the traditional ABCD style variations when playing with a regular style, I have the option to use four different variations within Piano room, with A being the simplest and D being the 'funkiest'. You can pick and choose the instruments that you want in the backing which is great for slowly building up a performance. There is a tap-tempo setting where you can literally touch the screen at the speed you wish the song to play at. So if that tune you want to play is in your head you just touch the screen along to the beat and the piano will match it, how clever!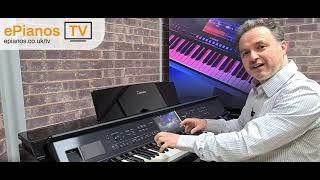 12m
How to: Piano Room on Yamaha CVP 800 Series
ePianos
Watch David jamming along using 'Piano room' on Yamaha CVP809
There are some further options to explore too which offer the chance to have a little fun (if your dinner isn't going to burn). You can change the virtual environment to a church hall that gives huge amounts of echo, a studio that does the opposite, or a stage that is somewhere in between. You can play with the position of the piano lid, which really does make a difference to the tone of the piano. It's quite fun to slide it up and down on the screen with your finger! I particularly like the feature called 'dynamics control' which gets the pianos' volume to match how intensely you are playing. For example, when I'm playing the first verse of a song I might play very lightly, but by the time I'm crashing into my third chorus of 'Hey Jude' I am playing very hard and the piano will respond by increasing the volume and selecting a different variation. All very clever indeed! It's worth knowing that there is a very handily placed reset button should you want to set things back to 'normal'.
In summary, 'Piano room' is probably the easiest way for a total beginner to use this type of piano, but still provides some casual fun for advanced players. It simply displays a picture of your chosen piano on the screen and you just start playing! If you want to go a little further you can invite a band or orchestra to join in with the touch of the screen. For songwriters, 'Piano room' will be a useful feature for jotting down ideas as you can record directly from it too.
I'm off to check my Duck a l'orange hasn't gone over. Take care everyone, and have fun on your pianos!