In need of some extra help to spice things up a little? Well you're in the right place, here is all you need to know about how to create a great sound on the DGX670…
First of all, I should mention that I will be basing this on the first voice on the keyboard, the 'CFX Grand Piano', a personal favorite of mine to say the least!
So, the good news is that it already sounds great, Yamaha have done a marvelous job on this new DGX series keyboard. It is equipped with Graded Hammer Standard weighted keys, with matt black key tops, as well as 5 different touch responses, key-off samples, and smooth release… However, there is still an endless list of options and settings on top of this to further help you improve and alter the sound to your personal preference, via the settings and voice options on the keyboard.
Let's take a look at them:
The first place you should check out is the 'Voice Settings' option under 'Menu 1', which you can find if you click the menu button just under the master wheel. Then use the master wheel to scroll to 'Voice Settings', and press enter. From there you can alter things like the depth of the damper resonance, I like to have mine fairly deep, you can also change the string resonance, so how much the strings on the piano will resonate after you play each note.
On top of this, you can even add reverb and chorus! Now for me, this is where the fun begins if you really want to bring out the textures and colors of your piano voice, so I tend to set the reverb option at about 60, and the chorus no higher than 30(if you go higher than 30, there is a noticeable echo).
I find that using these settings options on the 'CFX Grand Piano' voice really works wonders for the sound and tone of your instrument, complementing your playing massively.
Okay, so the next awesome feature you can make the most of, is the ability to 'layer' two voices together at once. This can be done simply by pressing the 'Layer' button under 'Part On/Off ' on the right side of the keyboard.
Once you've selected this, use the master wheel to scroll over to your layer voice on the screen, press 'enter', and then select what second voice you'd like to have with your first one. I have chosen the 'Movie Strings' voice, which can be found on the first page of the 'Strings and Choir' voice category.
Once you have selected your 'Layer' voice, look just below the screen and you'll see 8 different columns, click the lower button on the 5th column which will then take you into the 'Voice Set' for your layered voice.
From there you can then adjust the volume of your second voice, which will allow you to have the velocity balanced correctly between your two different voices, you can also adjust the depth, so for me in this particular scenario, I would have the depth fairly high on the strings, as this will really add to the intensity of my playing.
You can also adjust the 'Offset' which determines how much 'attack' the strings have, in other words, if you set it nearer the top, the strings will be powerful and in your face regardless of how soft or hard you press, but if you set the offset level lower down, then they will come in soft and gently. I think it's best to have this setting set for about mid-way, or just below.
Along with this, you can also decide whether you'd like your layered voice to sound an octave above your main voice, 2 octaves above, or 1 or 2 octaves below, as well as being able to just have it on the exact same note as your main voice too… How fancy!
If you press the 'tab' arrow right above the master wheel, then you can also change many other settings too, each of these you can adjust to your personal preference. This includes the EQ and Filter options for your layered instrument, as well as your different effects such as reverb and chorus depth, and also harmony, etc.
Though I tend not to alter these settings too much for my secondary instrument, as it can get very complicated, and I don't think it is essential unless you really want to explore and go the extra mile with the sound of your voice.
You will also want to save all of these settings once you are done, by pressing the lower button on column 8, which will allow you to save your voice, and then choose what you would like it to be called. I should also mention that you can and will need to do this for your main voice too.
To get both edited voices together again, simply turn the keyboard back on, and select the main voice, then press the upper button on the 8th column which will have the arrow pointing up, and then press the tab option to go onto the 'User Section', then select the main voice you saved, and you can also select the layered voice you saved in the exact same way, allowing you to access what you previously created and played with.
BUT WAIT! There's more… I'd like to show you one last feature that the DGX670 has built-in which is one of my favourite features to use, and it's just an outstanding idea too. It's called the 'Piano Room'. Essentially this option allows you to 'enter a room' as such, and it's just a nice intimate time between you and a piano/ keyboard of your choice. I should also mention that you are only able to use keyboards for this feature, not any other instrument.
All you have to do is hit the big piano-shaped button that says 'Piano Room' on it, to the bottom right of the screen… and you're in! After this, you can then record your playing, and save those recordings into a folder, which can be great for keeping practice logs and things like that.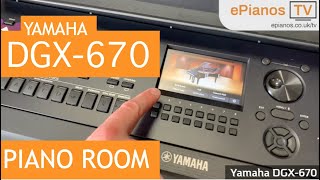 12m
What is Piano Room on Yamaha DGX-670?
ePianos
Max takes us through his use of Piano Room on the DGX-670
You can also choose between the 6 different keyboard and piano voices that the DGX670 allows you to choose from in the piano room.
If you decide to play on one of the two grand pianos, then you can choose what position you'd like the lid to be in as well, either closed, half-open, or fully open. Amongst this you can also choose the environment you are playing in, each different room has different types of echo and reverb settings which I think is an awesome feature!
It also has some fantastic 3D images of each room which get displayed on the screen too, to really help you feel like you are there in the room yourself. 
Then if you click the lower button on the 8th column, you can choose the settings of the piano, ie; its tuning, the brightness, the touch, and the VRM(which stands for Virtual Resonance Modelling – meaning the sound that resonates throughout the entire body of the instrument).
So there isn't really a limit to this wonderful 'Piano Room' feature, giving you endless amounts of enjoyment and entertainment!
These are all some fantastic features that the DGX670 has built into it to really help you find and achieve the sound you are looking for, and just to have some fun playing around and finding out what sounds you can make!
I hope you have enjoyed this blog all about how to alter and play around with the different voice settings for your DGX670, making the most of your sound, and taking it to the next level!
If you own a Yamaha DGX670 then comment below and let us know what you think of this blog and if it was helpful and informative for you, thanks!
Until next time.