There are so many different ways to configure these brilliant little keyboards that you could spend the best part of your week tinkering with them, and many people do! How to save a registration on the Yamaha PSR SX700 and SX900 is something we're asked regularly, so we thought a video explanation would be helpful.
Saving a registration is rather like taking a snap shot of how you've got the keyboard set up at any particular time so that you can load it up again at a later date. Watch my video below to learn how to do it.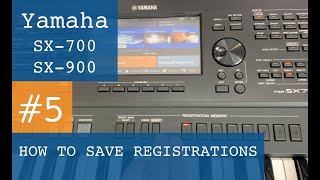 7m
Saving registrations on Yamaha PSR SX700 and SX900
ePianos
Watch Chris explain how to save your settings on Yamaha PSR SX700 + SX900
In the video, I only used one of the eight registration buttons. You are not obliged to use all eight of them, but of course, if you've set up the keyboard to play a particular song then it's very helpful to have multiple options. For example, you might want to use registration button 1 to save the sync-start and intro. So that when you play that first chord, the introduction plays. And then you can use button 2 for the next verse of the song where you may have changed to variation B. And likewise, at the end of the song, you can use a registration button to play a pre-chosen ending. It's all about putting together a neat and tidy, professional performance.
Incidentally, if you bought your Yamaha SX keyboard from us you may find that when you load the old Tyros music finder songs into the new Playlist section, there is only a single registration light lit up. This is because the Tyros music finder songs only had a single setting attached to them. Some people have chosen to use these as templates and improve on them by adding extra registrations for the remaining 7 buttons. With the new voices available to you on the SX keyboards, this can be really good fun and enhance the sound tremendously
If you're using a Yamaha SX700/900 or Genos and struggling with the registration section then you might like to know about our specially written guide here. It was written for the Genos keyboard and contains videos and written guides. You can either buy all 10 parts together, or you can now access each part individually too that best covers your particular needs.
The Playlist section on these keyboards is simply a clearer way of showing registrations. As you have no doubt noticed, you still have a registration section on SX700/900 and Genos. Playlist simply allows you to curate your own selection for any particular purpose, a Saturday evening gig, a wedding, or just a genre-specific list, and keep them all in a nice, tidy collection. Playlist has caused a little confusion, but when you look at it this way it's a wonder that it was never developed previously.
Take care everyone. Byebye for now.