Hello all. If you are a Yamaha Tyros player and you didn't know about our 'Tyros Tipsters' tutorial videos then you're in for a treat! Click here to watch them. If you have been following David and me on our 'Tipsters' adventures since we started back in 2013 then thank you! Occasionally we look back on the videos we made in the early days and we are embarrassed about our cheesy 'Tyros Tips….because we caaaaaare…' outros. More often we're just amazed at how dark and luscious our hair was and how young we both looked!
Featured in this post
One of our most-watched video videos (with nearly 100,000 views!) was called 'How to play like a pro on Yamaha Tyros'. It's a collection of little tips that I had picked up in my many years of training and demonstrating. As you can imagine when you spend 5 days a week demonstrating the Tyros you pick up a nifty trick or two. I absolutely loved sharing them with our regular customers in the store, more often than not they'd say 'Oh, I had no idea you could do that!' and go away really pleased. It was even more rewarding to then see the same customers using the tricks I'd shown them the following week!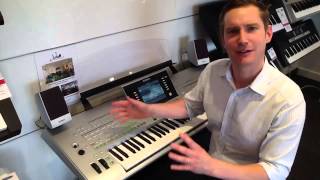 3m
How to play like a pro on Yamaha Tyros
ePianos
Watch (a very young-looking) Chris showing some secrets of the pros on Yamaha Tyros 5
Looking at this video again today I noticed that the tips I give are relevant for the more recent Yamaha keyboards like Genos, and the SX-700/SX-900. Really, the video is just a guide for operating Yamaha keyboards in general. I've picked up a few more little nuggets since this video was made, so if you'd find it interesting I'll make a 'part 2'. Just let me know in the comments section below or send me an email.
If you're this is the first time you've seen this video then I really hope you find it useful. As you can see there are a lot of very simple things you can do on a modern keyboard to really enhance your performance, even if you're not a vituoso performer (which I'm certainly not!). Take care everyone, bye for now.