As players of the Yamaha Clavinova CVP809 will know there are plenty of options to tinker with, maybe too many some might say!
At least you can't say that Yamaha doesn't cater to every conceivable want of their users and, bless them, they have made navigating around the various pages of settings within the piano remarkably easy with the brilliant touch-screen operating system.
However easy it may be to do this you can still take things a step further by adding your most regularly used options to the homepage of the piano.
You'll be familiar with how this looks as Yamaha have already added their own ones along the bottom of the screen. You can change these to show the ones that you personally use regularly. I explain how in the video below.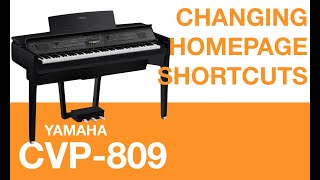 4m
How to change your homepage shortcuts on Yamaha CVP809 and CVP805
ePianos
Get quick access to your most commonly used settings by adding them to the homepage
Isn't that brilliant? – The way that you can easily customise the shortcuts is so useful and it's not just the homepage shortcuts you can customise.
You may have noticed the assignable buttons to the left of the screen too, these operate in a similar way as you can program whatever you like into them for quick access, the only trouble is that you have to remember what you've programmed in as there is no visual display.
Well, I hope that was useful to you. I plan to be making more video guides like this soon covering lots of the other functions and features of the Yamaha CVP800 series pianos. If you would like us to cover a particular feature then just get in touch using the email address below.
Still not sure which model is right?
Our experts have created a quiz to find the perfect model for your needs. Introducing Piano Chooser 3000 - Click the button below to begin...