Not being very experienced on the Korg range of keyboards, and having never played the PA1000 before, I was able to experience it in a way a beginner might. Getting started on the KORG PA1000 was an interesting test of the user-interface! I lost very little hair in the process of simply setting it up and playing the main sounds. And even resolving a few little niggles wasn't too much trouble thanks to KORG's easily accessible online manual. I had a brief scan for any oversized spiders in my shed, and then I got to work.
Once the PA1000 is plugged in and turned on, basic navigation is quite easy and the touchscreen is ultra responsive. Very similar to an iPhone/iPad experience. Unlike the Yamaha PSR SX700 and SX900, the screen angle is adjustable which is a nice touch. The sound defaults to piano when you turn it on and the sampled piano is quite sumptuous. My first impression is that there are plenty of piano and electric piano voices to choose from. I look forward to covering these in future videos.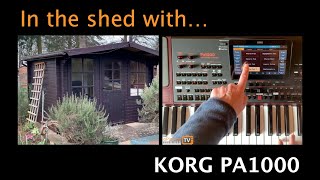 30m
In the shed with… Korg PA1000
ePianos
Chris fights off the spiders to test drive the KORG PA1000 keyboard
The speakers on this little keyboard are really excellent. Having only seen pictures of them and the odd video demonstration I was prepared to be underwhelmed, but in person, I'm pleased to report that these things pack a punch. There is clarity, power, and no shortage of bass. I expect that playing with headphones will give the best and most immersive experience, but if your neighbours can tolerate it you can make some big noise with the built-in speakers. If you're wondering about how easy getting started on the KORG PA1000 is then I can tell you that after less than an hours' playing time I was pretty happy with how everything is laid out and happy that I could understand the operating system going forward. I had a little problem when plugging in a sustain pedal. Finding the solution wasn't immediately obvious to me when simply looking at the options on the keyboard's front panel. But a quick search online led me to KORG's online manual where sorting out was very easy. KORG are by most accounts very good at online support with their products.
Where my creative juices really started flowing during this initial session, was with the pad synth sounds. I absolutely love moody electronic-style music. And not long after getting going on the KORG PA1000, you will be able to discover a huge selection of voices that swell and swirl, whistle, and reverb, howl, and hum. My mind was quickly turning to my next movie-soundtrack style composition. It really is inspiring!
In my next session 'in the shed' with the KORG PA1000, I'm going to explore recording. The main reason being it's a crucial feature for creative types like songwriters, but also because I want to give a cleaner and more representative sound in the next video. I was only using the microphone on my iPhone XR (which wasn't all that bad) as I wanted to demonstrate the keyboard's speakers. I'm only getting started on the KORG PA1000, but I can't wait to really get stuck in and see what can be achieved.