What is a Firmware Update?
A firmware update is exactly what it sounds like; an update for your firmware. But what does that actually mean? Firmware is essentially the digital side of these instruments – what you see on the screen, the buttons, and the functionality that comes with them. Firmware updates are changes that the manufacturer makes to improve how they work and add new functions. For example, last year Yamaha released Genos version 2, which increased the expansion memory from 1.8GB to 3GB as well as added more voices & styles and caught it up with the SX series, adding the 'Chord Looper' function.

Used Digital Piano Selection
What can it do for me?
There are firmware updates across many of the Yamaha digital pianos that will push all different kinds of improvements to your keyboard or piano. To find out if your model is eligible for a firmware update, you can head to the manufacturer's website for the most up-to-date information. Let's use an example – the SX-900, the baby Genos. If I type into google 'Yamaha SX900 firmware update' the first result takes me to here:
When we look at the whole of this page, we can see 3 things – a list of instructions to update our instrument, the 'version history' which is a log of all the changes that have been made in the different versions, and finally, the link to download the required files. So what would downloading and installing this firmware update do for you? Let's take a look at the version history.
We can see that the last few updates have mostly been small fixes, but version 1.03 added a new feature called voice guide and version 1.2 added support for Yamaha's expansion manager on the SX-900.
Featured in this post
Note: New versions are built on top of previous versions, so they include everything the previous versions do.
I hope this blog has given you some insight into what firmware is, and how firmware updates can be helpful to fix issues and add new features, helping you get the best out of your Yamaha Digital Piano or Keyboard. If you're still wondering, or if you have a Genos and you want to install Genos Version 2.0, check out David's video on updating Genos firmware here on ePianos TV.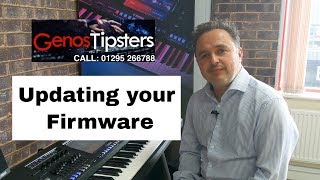 7m
How to update Yamaha Genos firmware
ePianos
David takes you through the update process to upgrade your Genos to the latest firmware