These two models are very similar. This blog will help you decide which one's for you.
I'd like to begin by saying that both these models are relatively heavy (35 – 40KG) They aren't really considered portable and should be viewed as more of a permanent feature rather than something you can easily transport. Think of them as a new sofa. You wouldn't try to put your new sofa in your backpack, would you?
The Yamaha Arius YDP S54 has a very modern, slick design that looks stunning to the eye while being compact. It can easily slot into the corner of the smallest room without being invasive to the space. Perfect for anything from office space, to a living room or the bedroom.
The KORG C1 Air is nearly identical in size, but personally, I think the Yamaha has a much sleeker-looking design to it. It just looks much more interesting and therefore more engaging in my mind. It's superficial, but on looks alone id go for the YDP as it's just more attractive.
The Korg C1 is the cheaper option by a considerable amount. But is cheaper better? Or if you spent that little bit more would you feel the benefit.
Let's focus on the voices. Are you a person that likes a wide variety of sounds? If you said yes then the C1 is for you. This is because it comes with 30 voices all loaded and ready to go. Whereas the S54 is a tad limiting in that department. 30 compared to 10 is a no brainer, right?
Split functionality is something that is very desired in the piano world. It opens up the capability of the instrument to new levels and allows for an astonishing amount of combinations of voices. This is something that I hold in high regard as it creates a deeper feeling of emersion that you don't tend to get when only using one single voice. Both of these models feature this "split" mode which is good to keep in mind.
As true as that can be, let's get into the specifics. The S54 offers a massive Polyphony of 192 different unique combinations. This means that even if the voices are limited, the endless ways you could layer the voices you do have are endless.
Whereas the Korg C1 features a 120-note maximum polyphony which is dragging behind Yamaha's models by a small fraction. If you are a player of highly complex pieces then this is an important consideration.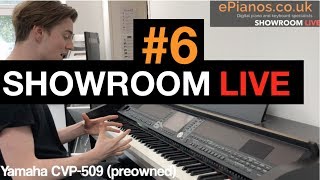 21m
Showroom Live #6 | Yamaha Clavinova CVP509 vs CLP635 – Yamaha Arius YDP S34 vs YDP S54
ePianos
Isaac hosts episode #6 of 'Showroom Live' which features the Yamaha Arius YDP-S54.
The recording capabilities are completely the same in this comparison. This means that neither has an advantage against the other. Both feature 2 track recordings transferred by MIDI meaning you're a few cables away from recording all your chord progressions.
In terms of DAW compatibility, these instruments do not have the best design for that sort of functionality. So if music production is your cup of tea, I'd go for a coffee instead. If you are using these just as an instrument in its most raw form, then these could be the ones for you.
The last big difference is the amplification of the speakers. The KORG C1 Air only wins by a small margin. So small in fact that there isn't a massive notable difference. Just a difference of 5W, meaning the C1 sits comfortably at 2 X 25W speakers that are powerful enough to carry the sound of your music with ease.
If the speaker's specs don't blow you away on either model, then you will be pleased to know that both have the power to connect to external speaker systems or monitors. This means that you don't have to only use the speakers that are built-in.
This is useful to know if you are planning a home studio environment as compatibility with external sound equipment is very important and desirable. The connection can be done via Bluetooth (YDP S54 will need a Bluetooth adapter) or wired, take your pick.
I hope that this blog has been comprehensive and informative. Here at ePianos we want you to make a decision that is best for you. An instrument is a lifetime investment and we're here to help.
Still not sure which model is right?
Our experts have created a quiz to find the perfect model for your needs. Introducing Piano Chooser 3000 - Click the button below to begin...