The Yamaha CLP745 is approximately £600 more than the Yamaha CLP735. Here are the main reasons why.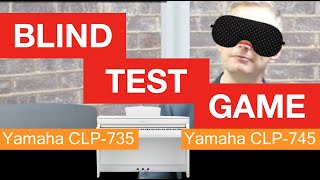 6m
Blind Sound Test – Yamaha CLP735 vs CLP745
ePianos
Can you hear the difference between the Yamaha CLP735 and CLP745?
The CLP745 has wooden white keys, but the keys on CLP735 are entirely made from plastic. On a traditional piano, the keys are wooden so obviously, this makes CLP745 the more authentic piano to play. The CLP745 has more powerful amplifiers and double the number of speakers than the CLP735. This makes the CLP745 sound significantly richer and fuller than the CLP735. The CLP745 has Bluetooth connectivity meaning you can play your smartphone/device music through the onboard speakers wirelessly. CLP735 does not have Bluetooth but does have an external input for a wired connection. For me, the most important difference is the difference between the speakers and amplifiers. See the spec chart below.
I know it's difficult to visit showrooms at the moment due to COVID – So, as part of our ePianosTV project,  I wanted to give you the chance to hear this for yourself. So I invite you to play: The Blind Sound Test! – Watch my video here.
Notes on the method used in this video: Because this is a test of the speaker/amplifier system I recorded them using an external microphone. (using a DI output would have not demonstrated this!), and I positioned the microphone in between the two pianos to give an even sound.
The result is not the purest sound but importantly will give you a chance to hear the difference in performance. Of course, there's no substitute for coming to the showroom and trying them for yourself, we're just trying to be helpful in a difficult time! Go ahead and play the Sound Test Game and see which piano you choose – it's quite fun! – Spoiler alert: For me personally when I sat and played these two pianos there was absolutely no doubt that CLP745 is superior. I say this simply because it's a pleasure to play with wooden keys and the speakers/amplifiers allow a much wider expression in my playing. I recently explored the topic of 'expression' in your playing in a CLP785 demonstration video here.
I hope it was helpful to you. Just get in touch if you have any questions. Happy Christmas to you all and hopefully see you again soon!
If you are still having trouble deciding, then why not try our piano chooser? A quick and easy way to find a piano that best fits your needs! Simply click 'Take the quiz'!
Still not sure which model is right?
Our experts have created a quiz to find the perfect model for your needs. Introducing Piano Chooser 3000 - Click the button below to begin...