Hi everyone. Sometimes a piece of music can move you emotionally. It can touch a nerve, give you goosebumps, rekindle old memories and the effect is magical. I want to share with you a beautiful piece of music that I first heard in an old TV documentary about the American Civil War called 'Ashokan Farewell'. It is a waltz written in the style of a Scottish lament and is perfect for the Yamaha CVP809 with its brilliant Celtic Violin voice, and all the wonderful articulations and subtleties that it allows you. The harmonies are also very interesting being an unusual type (but common in country music) where the harmony is more dominant than the melody.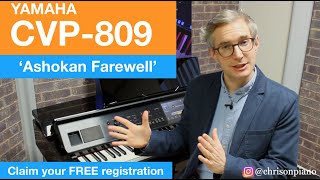 7m
Ashokan Farewell on Yamaha CVP809 digital piano
ePianos
Watch my arrangement of 'Ashokan Farewell' on the Yamaha CVP-809
The TV series that I was referring to in the video is 'The Civil War' by Ken Burns. Of particular note, and perhaps what really made listening to the music so moving for me, was the reading of the final letter written by a Union Army soldier called Sullivan Ballou to his wife and children on the eve of going into battle. For those of you that are interested, you can read the letter in full by clicking below.
"But, O Sarah! If the dead can come back to this earth and flit unseen around those they loved, I shall always be near you; in the brightest day and in the darkest night—amidst your happiest scenes and gloomiest hours—always, always; and if there be a soft breeze upon your cheek, it shall be my breath; or the cool air fans your throbbing temple, it shall be my spirit passing by". – Sullivan Ballou – Headquarters, Camp Clark
Washington, D.C., July 14, 1861
If you enjoyed my arrangement then you can have a free copy of my registration for the Yamaha CVP809. Just email me and I'll send it to you. You can easily transfer it to your own CVP809 using a USB stick.
Thanks for listening & reading. That violin is really brilliant, isn't it? And did you like the acoustic guitar too? Both work so well on the CVP809. The eagle-eyed of you may have noticed that I was changing the registration without taking my hands off the keys (the music demanded it!) so I used a registration-sequence where you can change along the registration buttons by using one of the pedals. This will also be included in the registration should you receive a copy. Take care everyone. More coming soon!