Hi there, it's Max from ePianos and today I want to share with you what I thought about the Yamaha PSR SX600 after playing it for the first time…I hope you enjoy!
The first thing I really liked about the keyboard was how cleanly packaged it was, I loved how neat and tidy it all fitted together and this really made you feel like you were buying a quality product as you unpackaged it, leaving a very good first impression.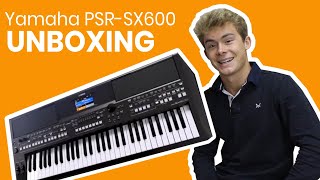 5m
Yamaha SX600 unboxing
ePianos
Yamaha SX600 | Out of the box
After you fully unpackage and plug in the Yamaha SX600, give it just a few seconds to start up, and away you go… you are exposed to the endless depth of features and fun that this keyboard has been loaded with!
I particularly enjoyed the vast majority of genres that you could play in. The keyboard has so many genres of music for you to play too, you couldn't possibly get bored of it! From ¾ Waltz's and Jazz Swing standards to Spanish Rhumba, some Latin Bossanova's and even a Beguine! I particularly enjoyed playing in the 'musical/theatrical' genre, which gives you access to play to all of your favorite movie theme tunes, all of which come in four different levels of musicality and each with their own, specifically chosen four instruments suited to the genre, for you to play and explore with!
Screen & Controls
The next part of the SX600 with which I'd like to share my experience is its layout. The keyboard has a lot of different features and buttons to play around with as previously mentioned, which is why its layout and setup of controls are very crucial for its performance and usability.
The controls are fairly simply laid out and easy to work with, though there are a vast amount of buttons and this can be slightly overwhelming at first if you don't know how the keyboard works. But as you begin to play it and learn from the owner's manual that comes with it, you will begin to understand what is what and know how it all works within no time at all.
This keyboard doesn't come with a touch-screen, it can only be controlled by the buttons. For me, I found this to be quite a disappointment as it makes the keyboard slightly harder to use and to navigate when finding your way around the different features, compared with one of the Tyros keyboards for example, which do have that upgraded touch screen option.
Not having the touch screen option just means that you have to manually navigate your way around all the different features of the keyboard which makes it slightly more hassle and a bit more complicated to find your way around. However, this is only a minor downside to the keyboard, and you would know no difference if you have never played one with a touch screen before, so not having the touch screen option isn't too much of a negative on the instrument after all.
Yamaha SX600 | Key Features
Lastly, I would like to point out the main qualities of the instrument such as its speakers and the high-quality sound system, as well as all of the little, unnoticed details that the keyboard comes with which really make it stand out in performance and quality…

Firstly, the speakers on the keyboard are excellent, and they do a great job at hosting all of the different sounds and voices that the keyboard comes with. I was particularly impressed when I was playing through some of 'Autumn Leaves' by the legendary Nat King Cole last week, I was playing along to one of the 'Big Band Jazz/ Swing' arrangements that the keyboard has. It felt like I had a whole orchestra accompanying me as I played the tune! Not to mention that you can basically orchestrate and reconstruct the whole song by yourself with the different 'break', 'intro' and 'outro', options you can choose to play with, as well as being able to transpose the key mid-way through playing AND even change the tempo of the song as you play too… truly incredible!
I also particularly like how they have added a pitch bend and modulation joystick to the keyboard too, which really allows you to have fun with the different voices as you improvise over the tunes. Being able to play along to such a wide variety of styles I also found really helped me improve my improvising skills and technique as I played and explored with the different sounds to see what I could make of them.
Summary
If you are looking for a keyboard that will help you improve your musical vocabulary behind the instrument, as well as give you a whole ton of endless fun in a variety of different ways, for a very reasonable, competitive price, then this is definitely the keyboard you are looking for!