The Yamaha PSR-E473 keyboard is the ideal choice for a person who is beginning their journey into playing piano and is inspired to create their own music. It is much more than simply a small, lightweight, 61 note keyboard. It is an engaging, exciting, high-tech musical workstation.
If you prefer, you can simply play the Yamaha PSR-E473 as a normal piano. You simply turn on the power and the default sound is a rich, high definition piano sample. The keys themselves are touch-sensitive meaning that when you play lightly, then the sound will be quieter, and when you play harder the sound gets louder. Don't confuse 'touch-sensitive' keys with 'weighted' piano-style keys. They are two very different things! We explain what weighted keys are in this blog.
The Yamaha PSR-E473 allows you to go far deeper into music-making activities than simply playing the piano. You have the ability to select automatic backing music that uses A.I. to follow what you're playing on the keys. It's a very clever piece of technology that Yamaha have crafted over the years and really allows you to feel like you're playing alongside a band.
There are a huge variety of musical genres to choose from in the backing styles section. Rock, Pop, Latin, Dance, Country, R&B, to name a few, with multiple variations within each genre. Altogether there is a massive 290 to choose from! Surely enough to cover everyone's musical tastes.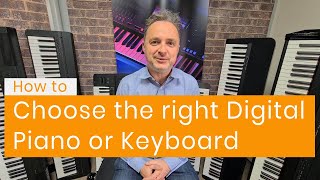 25m
How to choose which Digital Piano or Keyboard to learn
ePianos
David explains the important things to look for when choosing a new digital piano or keyboard for a beginner.
The modern technology included in the Yamaha PSR-E473 is really impressive and if you're a creative person, you can find yourself getting joyfully immersed in the music-making process. You have the ability to record multiple layers in the built-in recording studio, you can sample external sounds and loop them around during your performance, and you have very useful assignable 'Live Control Knobs' which allow you to tweak the EQ, sound effect, and various other parameters during your performances.
Naturally, once you've spent hours and hours creating your musical masterpiece, uploading it to a computer for sharing online is made very easy. There are all the standard connections required to make it straightforward like jack outputs, USB to host, and a socket for a standard USB flash drive.
Playing the Yamaha PSR-E473 when wearing headphones is a great way to hear the quality of the 820 built-in sounds, but the 6-watt speakers deserve a mention too as they give a surprising amount of punch for such a lightweight design. Hi-spec compact speakers are an area where Yamaha have really excelled – being award winners for their professional hi-fi equipment too – and this technology has been shared with portable keyboard range.
The Yamaha PSR-E473 comes complete with the power adaptor, music rest, and manual in the box, and can even be connected to Yamaha's subwoofer speaker called the SW-100 to increase the volume when playing larger and more crowded venues. At only 7kg it's very lightweight and easy to carry, even when it's not in a carrying case. For singers, there is a microphone input and even professional-quality vocal effects so you can really add a touch of polish to your performances.
Overall, the Yamaha PSR-E473 packs a huge amount into its compact frame and offers something for almost any musical taste. It's particularly useful for musicians (or even non-musicians!) who like to be creative with mixing, tweaking, and recording instruments and sounds, and then sharing them online. It's a modern keyboard, with modern tech, in a stand-alone design, for use in the digital age.
If you're looking for a bargain, then don't forget to check out our huge selection of quality preowned digital pianos & keyboards by clicking here. All of our used instruments and fully serviced and come with a 12-month warranty. You might just find the perfect instrument and save a lot of money!