Hi everyone. Firstly, this piano is absolutely gorgeous, as you'd expect from a top-of-the-range Yamaha Clavinova digital piano. The CLP range is all about authentic touch, sound, and traditional style. CLP785 is the pinnacle of the CLP line-up and, as you'd expect, it really stands out.
I wanted to showcase the exquisite quality of the piano design, so I filmed a high-definition 'walkaround' tour so you can see it for yourself. I also wanted to give you the chance to inspect the piano up-close and see the angles that you don't often get the chance to see in the brochures and video demonstrations.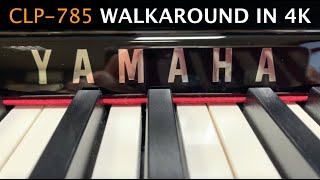 6m
Yamaha CLP-785 digital piano | A walkaround in 4K
ePianos
WATCH - No talking, just a glorious tour of the Yamaha CLP785 in 4K
Amongst other things I wanted to show how the soft-close lid operates, where the music rest is located, the texture of the bass speaker cloth, where the input and output sockets are located, the pedal housing, and a side-on view to show how narrow the cabinet is. As you can see the design is quite different from the lower models like CLP-775 or CLP745. This piano really is in a class of its own in terms of style.
If you would like to try the Yamaha CLP785 for yourself then please do get in touch via email (sales@epianos.co.uk) or by phone (01295 266788) and we'll be glad to arrange an appointment for you. If there is a particular function or feature that you have a question about, or would like to see demonstrated in a video, just get in touch and let us know. We know that it's currently very difficult to travel with the COVID restrictions so we are making it our mission to bring the showroom to you. You can get a flavour of what we're doing by visiting ePianosTV by clicking here.