I got a little carried away in this session with the Yamaha CLP785 electric piano, but that is a testament to the quality of this piano rather than my lack of self-control! When you sit down and play this piano you can easily be carried away.
There are so many layers of sound to explore, so many dynamics to play with, and a seemingly eternal level of variation to be exploited. In plain English; It's bloody good.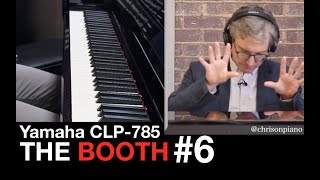 26m
The Booth #6 | Yamaha CLP785 digital piano
ePianos
Watch my session in The Booth with the awesome Yamaha CLP785 piano
In terms that might be more helpful to you: The Yamaha CLP785 electric piano is a 'buy once' piano.
There will be no need to upgrade. You will likely be satisfied with the piano for as long as you play.
If you're buying for a child who is just beginning to play the price may be an issue. However, I really want to stress to you the importance of giving them an instrument that allows them to express themselves.
Let's say that, rather than learning piano, they are learning to paint; If you limit them to 2 shades of green they can still paint a nice picture of a tree, but give them an almost unlimited pallet of colours (like CLP785 has) and you'll have given them the opportunity to express themselves in ways that exceed your expectations, and you'll give them all the room to grow that they will ever need.
They might surprise you with how quickly this happens if you give them the chance!
In Yamaha's world-renowned Clavinova digital piano range, the CLP785 is simply the pinnacle.
It's with noting that there are two other ranges within the Yamaha Clavinova range, the CVP and the CSP, but it's the CLP range that gives you the closest thing to a traditional piano experience.
The way it feels to play is sublime. Unlike the models beneath it in the CLP range, it uses one of Yamaha's finest replications of their CFX concert grand piano action available outside of actually playing the real thing!
The wooden keys are actually made from solid wood (just like the real thing!), and the black ones are made from synthetic ivory. For the precision touch and fast repeat notes required in higher grades, this is ideal, some might say essential.
It's the attention to detail that really lifts this piano up. For example, the keytops (that's the flat-ish surface of the keys themselves), are made from a highly absorbent synthetic material to stop your fingers from slipping on their own sweat.
Cosmetically this piano is a work of art. Its cabinet design is quite different from the lower models in the range and is much more like Yamaha's traditional upright pianos.
If you liked my Yamaha CLP785 electric piano review and you'd like a really close-up look then you might find our 'Walkaround in 4K' video helpful below.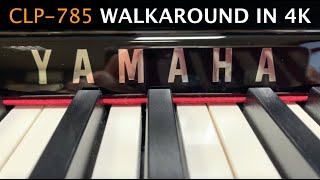 6m
Yamaha CLP-785 digital piano | A walkaround in 4K
ePianos
Get a close-up look at the Yamaha CLP785 with our walkaround in 4K
Overall, I can't speak highly enough of this piano. I now firmly want one for Christmas (if there's a benevolent millionaire out there…). No, don't worry, it's not that expensive!
Yamaha has proven themselves masters of making digital pianos. They know from experience what it takes to make playing a digital piano as authentic as playing a traditional one, and they've really excelled with the CLP785 electric piano.
When I speak about Yamaha as being masters I'm not kidding. If you're wondering where you can go from this model then you should check out the Yamaha AvantGrand Digital Hybrid pianos (a mouthful I know…).
They take the best elements of fully digital and traditional pianos. Have a look by clicking here.
We will be featuring the Yamaha CLP785 in more 'The Booth' sessions soon, so make sure you're signed up to our newsletter below. Take care everyone and merry Christmas!