30 second comparison – Yamaha P115 vs P255 digital keyboards
Korg
Yamaha P115 v P255 Comparison – What piano should I buy?
ePianos
View all
Used Yamaha P255 In White With L125 Stand and Pedals
Overview
An Outstanding Portable Digital Piano
The Yamaha P255 portable piano is for all musicians looking for an instrument suitable for both serious practice and live performance. Thanks to its compact and portable design, the P-255 can be played in almost any environment.
Piano quality to the satisfaction of even experienced pianists
Despite its portable design, the P-255 offers a full range of performance capabilities. In terms of keyboard, piano voices, and sound reinforcement, this is the very best digital piano in the P-Series. Whether you're already an expert or new to the piano, you'll love playing this instrument.
Synthetic ivory keytops let you play in comfort for hours on end
Thanks to the Graded Hammer (GH) keyboard, the lower keys are heavier to the touch and the higher ones are lighter, giving the P255 the feel of an acoustic instrument. What's more, the white keys feature synthetic ivory keytops with excellent moisture absorption properties. This ensures that your fingers won't slip even when playing for extended periods of time. The keytops are also ideal for rapid finger movement, so you can play any type of music with confidence.
The P255 keyboard can also be set to one of four different sensitivity levels. For example, when practicing Hanon exercises, you can configure the keyboard to require a more powerful touch. Alternatively, you can set the instrument to sound louder even when played lightly.
Maximum polyphony of 256 notes – unsurpassed in the world of digital pianos
The P255 is the first P-Series model to offer a maximum polyphony of 256 notes. This means that there's no need to worry about sounds cutting out when you play complex songs with many notes and intricate pedal work. This is yet another feature that makes playing the P-255 a simply superb experience.
Impressive piano voices reproduce the sensation of playing a concert grand piano
The P255 uses the Pure CF Sound Engine to produce its piano sounds. This tone generator features the recorded sounds of Yamaha concert grand pianos and can easily replicate the nuances of delicate playing or the power of wide dynamic ranges. In addition, as the only P-Series instrument to feature the following three functions, the P-255 can also recreate the characteristic acoustics of the grand piano with even greater realism:
Key-off Sampling
This function reproduces the slight change in sound at the instant you remove your fingers from the keys. What's more, different key-off sounds can be produced for staccato and tenuto playing.
Sustain Sampling
The resonance of the soundboard and strings when the damper pedal is operated has been sampled in order to recreate this acoustic effect on the P-255, depending on how much the pedal is depressed.
String Resonance
When the hammer of a grand piano strikes the string, the other strings will also resonate. The P-255 can reproduce this effect using its String Resonance function.
Meticulous acoustic design for a more exquisite sound
Round speakers vibrate in a highly natural manner to produce well-balanced sounds and it is this type of speaker that has been integrated into the P255 portable piano. Thanks to this design, lower notes in particular have a much richer tone. The P255 also features built-in tweeters, so that higher notes sound brighter. In addition, we gave careful consideration to sound propagation direction when positioning these speakers. With these advances in the digital piano's acoustic design, we have achieved excellent sound quality over the full length of the keyboard and made the instrument much more expressive. What's more, the pair of 15W amplifiers built into the P255 deliver a very powerful sound.
Designed to faithfully emulate an acoustic piano
In addition to a simple yet elegant design, the Yamaha P255 portable piano features a rounded finish, much like a real piano, and is available in two colours, black and white. While the overall number of buttons has been reduced for a smarter appearance, this digital piano is still very easy to operate. And as with grand pianos, synthetic leather has been used for the music stand. In terms of sound, meanwhile, we have taken many steps to make playing a more enjoyable experience, such as adding spaces that work as tone escapement, meaning that the player can also enjoy a clearer sound. Optional extras such as the L-255 and LP-255 make playing the P255 much more like playing a real piano, even at home.
Voices and rhythm tracks for more sophisticated performances on the Yamaha P255 Portable Piano
While the P255 plays and responds in the same manner as an acoustic piano, it also lets you express your creativity in many other ways. As such, it is the perfect choice for those who wish to enjoy a wide range of music and for players who are keen to explore new possibilities.
Spice up your performances with built-in rhythm tracks

Boasting new rhythm track functionality, the P255 comes complete with ten different rhythm patterns that are perfectly suited to pop, jazz, bossa nova, and many other types of music regularly performed on the piano. Using these rhythms, you can easily add spice to your performances and accentuate the mood of individual songs. When you start a rhythm track, the P-255 begins with an intro section; and when you stop it, the instrument plays an ending to bring your song to a neat and tidy end. This function is perfect for singers who accompany themselves and for other live performers. What's more, you can also adjust the tempo of rhythm tracks to use them in place of a metronome, which makes practice more fun.
Vibrant range of voices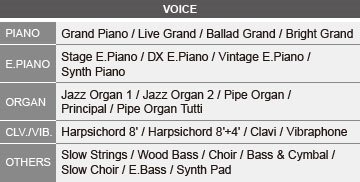 In addition to piano voices, you can enjoy playing organs, strings, synth, bass, and a wide variety of other instrument sounds on the P255. This digital piano also lets you change voices to suit individual songs and to layer different sounding voices, allowing you to explore many other interesting sounds in addition to piano.
Sound can be adjusted for different playing environments on the Yamaha P255 Portable Piano
The P255 also offers functions to conveniently change the voice, volume, and other settings based on where you are performing. All in all, the P-255 is a highly adaptable digital piano that can be used in many different ways to suit individual needs.
Use the EQ sliders to match the sound to personal taste or the performance environment
The P255 is equipped with three EQ sliders—one each for the low, mid, and high frequency bands. By simply moving these sliders, you can easily adjust the digital piano's sound to your liking or to better suit the current song or acoustic environment. For example, with just this one instrument, you can produce bright and shimmering sounds tones that are clear and highly present, or powerful sounds that pack a punch.
Sound Boost instantly provides a louder sound with greater presence
At the touch of a button, you can easily make the sound of the Yamaha P255 portable piano louder and enhance its presence using the built-in Sound Boost function. Rather than simply making the sound more powerful, this function allows for a clear-sounding performance that retains its dynamics without becoming any less expressive. As such, the instrument will beautifully project both loud and soft notes. When playing along with other instruments, Sound Boost makes your performance stand out in the mix with clear tonal delivery, and when playing solo or accompaniment in spacious venues, or when accompanying yourself singing, it delivers beautiful, sustained tones.
Additional functions to the Yamaha P255 Portable Piano
When the P255 is connected to external speakers, its built-in speakers can be conveniently muted; furthermore, the control panel can be temporarily locked to prevent settings being changed by accidentally pressing buttons while playing. Thanks to functionality such as this, the P255 helps to ensure that nothing goes wrong during those all-important performances.
Many other appealing features
Recording and playing back performances using a USB flash drive
The P255 can store your performances on a USB flash drive as audio songs. In the past, you would have had to connect external equipment in order to record in this way, but USB flash drives can now be plugged in directly. What's more, these songs are stored in .wav format, meaning that you can conveniently play them back on a computer or transfer them to a portable music player. This makes it very easy to monitor how you are improving by comparing newer and older recordings, to share your songs with friends, and to enjoy music in countless other ways.
Dedicated, intuitive controller app available
By simply downloading the free app P255 Controller to your iPhone or iPad, you can control a wide range of the instrument's functions in a highly intuitive manner. This highly visual approach also makes it easy to try out functions that you have never used before, which is certain to make your playing experience more enjoyable. You can also use the app to store your favourite settings and recall them instantly whenever needed.
*An Apple Lightning to USB Camera Adapter/iPad Camera Connection Kit or dedicated Yamaha cable such as the i-MX1/i-UX1 is required for connection.
Dimensions and Weight of the Yamaha P255 Portable Piano:
P-255
Dimensions
Width
1,333mm (52-1/2")
Height
148mm (5-13/16")
Depth
351mm (13-13/16")
Weight
Weight
17.3kg (38 lbs., 2 oz)