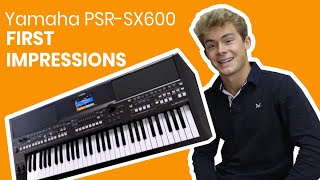 Yamaha SX600 'first impressions' review
Video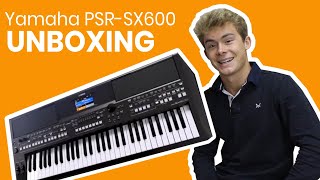 Yamaha SX600 unboxing
Video
includes 3 months of YAMAHA FLOWKEY
Have you always dreamt of playing piano or keyboard? Alongside online courses, private lessons with a piano teacher or classes in a music school, there are also other options: Start learning how to play your favourite songs on your Yamaha piano or keyboard right now, at your own pace and whenever you have time – with Yamaha and flowkey.
Flowkey is one of the world's most popular apps for learning to play the piano. Even beginners can learn to play a wide array of songs on their acoustic piano, digital piano or keyboard in next to no time. The flowkey piano app is the ideal companion for those starting to learn the piano. Choose your favourites from a wide range of songs and start playing right away or learn in the traditional way with one of the many tutorials available.
All you need to do is:
• register your new acoustic piano, digital piano or keyboard on the Yamaha Music Member Europe (YMME) portal
• obtain your individual code from the members' portal
• enter your code when registering on the flowkey website.
You will then have premium access to the app free of charge for three months.
Features
A World of Sounds and Grooves
The PSR-SX600 provides for high-quality music experiences with rich, realistic voices including a beautiful grand piano. With Styles, you can play music in a wide variety of music genres from around the world and using SmartChord lets you use these professional backings with just one finger. You can even use a microphone (sold separately) to sing along with your performance through the built-in speaker system.
Performances Worth Sharing
The PSR-SX600 gives you professional expressive functions to enhance your performance; use Multi-Pads to add loops and phrases to compliment the accompaniment, use cutoff to filter the sound in real time, or use the new Unison & Accent to morph Styles to your own performance. Then, why not use the free Rec'n'Share app to capture and share high quality sound and video of your performance with a single tap…
Specification
PSR-SX900

PSR-SX700

PSR-SX600

Body
Color
Black
Black
Black
Dimensions
Width
1017 mm
1017 mm
1004 mm
Height
139 mm
139 mm
134 mm
Depth
431 mm
431 mm
410 mm
Weight
Weight
11.5 kg
11.5 kg
8.1 kg
Keyboard
Number of Keys
61
61
61
Type
Organ (FSB), Initial Touch
Organ (FSB), Initial Touch
Organ, Initial Touch
Touch Response
Normal, Soft 1, Soft 2, Hard 1, Hard 2
Normal, Soft 1, Soft 2, Hard 1, Hard 2
Normal, Soft 1, Soft 2, Hard 1, Hard 2
Other Controllers
Joystick
Yes
Yes
–
Control Knobs
2 (assignable)
2 (assignable)
2 (assignable)
Pitch Bend
–
–
Yes
Modulation
–
–
Yes
Display
Type
TFT Color Wide VGA LCD
TFT Color Wide VGA LCD
TFT Color WQVGA LCD
Size
800 x 480 dots (7 inch)
800 x 480 dots (7 inch)
480 x 272 dots (4.3 inch)
Touch Screen
Yes
Yes
–
Color
Color
Color
Color
Language
English, German, French, Spanish, Italian
English, German, French, Spanish, Italian
English, German, French, Spanish, Italian, Japanese
Panel
Language
English
English
English
Tone Generation
Tone Generating Technology
AWM Stereo Sampling
AWM Stereo Sampling
AWM Stereo Sampling
Polyphony
Number of Polyphony (Max.)
128
128
128
Preset
Number of Voices
1337 Voices + 56 Drum/SFX Kits
986 Voices + 41 Drum/SFX Kits
850 Voices + 43 Drum/SFX Kits + 480 XG Voices
Featured Voices
252 S.Art!, 54 Mega Voices, 31 Sweet! Voices, 87 Cool! Voices, 131 Live! Voices, 24 Organ Flutes!
131 S.Art!, 30 Mega Voice, 31 Sweet! Voices, 74 Cool! Voices, 89 Live! Voices, 24 Organ Flutes!
73 S.Articulation!, 27 MegaVoice, 27 Sweet!, 64 Cool!, 71 Live!
Compatibility
XG
Yes (for Song playback)
Yes (for Song playback)
Yes (for Song playback)
GS
Yes (for Song playback)
Yes (for Song playback)
Yes (for Song playback)
GM
Yes
Yes
Yes
GM2
Yes
Yes
Yes
Expandability
Expansion Voice
Yes (approx. 1 GB)
Yes (approx. 400 MB)
Yes (approx. 100MB max.)
Editing
Voice Set
Voice Set
Voice Set
Part
Right 1, Right 2, Right 3, Left
Right 1, Right 2, Right 3, Left
Right 1, Right 2, Left
Types
Reverb
59 Preset + 30 User
59 Presets + 30 User
52 Preset + 30 User
Chorus
106 Preset + 30 User
106 Presets + 30 User
106 Preset + 30 User
DSP
322 Preset (with VCM) + 30 User
322 Presets + 30 User
295 Preset + 30 User
Insertion Effect
1-8: 322 Preset (with VCM) + 30 User
1-5: 322 Presets + 30 User
–
Master Compressor
5 Preset + 30 User
5 Presets + 30 User
5 Preset + 30 User
Master EQ
5 Preset + 30 User
5 Presets + 30 User
5 Preset + 30 User
Part EQ
28 Parts
28 Parts
27 Parts
Others
Mic/Guitar effects: Noise Gate, Compressor, 3 Band EQ, Vocal Effect: 23
Mic/Guitar effects: Noise Gate x 1, Compressor x 1, 3Band EQ x 1
Mic effects: Noise Gate x 1, Compressor x 1, 3 Band EQ
Arpeggio
Yes
Yes
Yes
Vocal Harmony
Number of Presets
Vocal Harmony: 54, Synth Vocoder: 20
–
–
Number of User Settings
60 *The number is the total of Vocal Harmony and Synth Vocoder
–
–
Preset
Number of Preset Styles
525
400
415
Featured Styles
463 Pro Styles, 46 Session Styles, 10 DJ Styles, 6 Free Play
353 Pro Styles, 34 Session Styles, 10 DJ Styles, 3 Free Play
372 Pro Styles, 32 Session Styles, 10 DJ Styles, 1 Free Play
Fingering
Single Finger, Fingered, Fingered On Bass, Multi Finger, AI Fingered, Full Keyboard, AI Full Keyboard
Single Finger, Fingered, Fingered On Bass, Multi Finger, AI Fingered, Full Keyboard, AI Full Keyboard
Single Finger, Fingered, Fingered On Bass, Multi Finger, AI Fingered, Full Keyboard, AI Full Keyboard, Smart Chord
Style Control
INTRO x 3, MAIN VARIATION x 4, FILL x 4, BREAK, ENDING x 3
INTRO x 3, MAIN VARIATION x 4, FILL x 4, BREAK, ENDING x 3
INTRO x 3, MAIN VARIATION x 4, FILL x 4, BREAK, ENDING x 3
Other Features
One Touch Setting (OTS)
4 for each Style
4 for each Style
4 for each Style
Chord Looper
Yes
–
–
Style Section Reset
Yes
Yes
Yes
Unison & Accent
–
–
Yes
Expandability
Expansion Style
Yes (Internal Memory)
Yes (Internal Memory)
Yes (Internal Memory)
Expansion Audio Style
Yes (Internal Memory)
–
–
Compatibility
Style File Format, Style File Format GE
Style File Format, Style File Format GE
Style File Format (SFF), Style File Format GE (SFF GE)
Preset
Number of Preset Songs
5 Sample Songs
5 Sample Songs
3 Sample Songs
Recording
Number of Songs
Unlimited (depends on the drive capacity)
Unlimited (depends on the drive capacity)
–
Number of Tracks
16
16
16
Data Capacity
Approx. 3 MB/Song
Approx. 3 MB/Song
Approx. 1 MB/Song
Recording Function
Quick Recording, Multi Recording, Step Recording
Quick Recording, Multi Recording, Step Recording
Quick Recording, Multi Track Recording
Compatible Data Format
Playback
SMF (Format 0 & 1), XF
SMF (Format 0 & 1), XF
SMF (Format 0 & 1), XF
Recording
SMF (Format 0)
SMF (Format 0)
SMF (Format 0)
Preset
Number of Multi Pad Banks
329 Banks x 4 Pads
226 Banks x 4 Pads
188 Banks x 4 Pads
Audio
Audio Link
Yes
Yes
Yes
Registration
Number of Buttons
8
8
8
Control
Registration Sequence, Freeze
Registration Sequence, Freeze
Registration Sequence, Freeze
Playlist
Number of Records
2500 (max.) Records per Playlist file
2500 (max.) Records per Playlist file
500 (max.) Records per Playlist file
Lesson/Guide
Lesson/Guide
Follow Lights, Any Key, Karao-Key, Your Tempo
Follow Lights, Any Key, Karao-Key, Your Tempo
Follow Lights, Any Key, Karao-Key, Your Tempo
Search
Registration Bank
Registration Bank
Registration Bank
Demo/Help
Demonstration
Yes
Yes
Yes
Overall Controls
Metronome
Yes
Yes
Yes
Tempo Range
5 – 500, Tap Tempo
5 – 500, Tap Tempo
5 – 500, Tap Tempo
Transpose
-12 – 0 – +12
-12 – 0 – +12
-12 – 0 – +12
Tuning
414.8 – 440 – 466.8 Hz
414.8 – 440 – 466.8 Hz
414.8 – 440.0 – 466.8 Hz
Octave Button
Yes
Yes
Yes
Scale Type
9 types
9 types
9 types
Sub Scale Setting
Yes
–
–
Bluetooth
Yes (Audio) * May not have this functionality depending on the country
–
–
Miscellaneous
Direct Access
Yes
Yes
Yes
Text Display Function
Yes
Yes
Yes
Wallpaper Customization
Yes
Yes
–
Display Out
Yes (by using a commercially available USB display adaptor) * For a list of compatible devices, access the "Yamaha Downloads" website. PSR-SX900 generates a 800 x 600 size image for external display. The size of main display is 800 x 480, so there will always be blank areas at the top and bottom of the image.
No
–
Voices
Harmony/Echo
Yes (with Arpeggio)
Yes (with Arpeggio)
Yes (with Arpeggio)
Panel Sustain
Yes
Yes
Yes
Mono/Poly
Yes
Yes
Yes
Voice Information
Yes
Yes
Yes
Styles
Style Creator
Yes
Yes
Yes
OTS Information
Yes
Yes
Yes
Style Recommender
–
Yes
–
Songs
Score Display Function
Yes
Yes
Yes
Lyrics Display Function
Yes
Yes
Yes
Song Creator
Yes
Yes
Yes
Multi Pads
Multi Pad Creator
Yes
Yes
Yes
Audio Recorder/Player
Recording Time (max.)
80 minutes/Song
80 minutes/Song
80 minutes/Song
Recording
.wav (WAV format: 44.1 kHz sample rate, 16 bit resolution, stereo), .mp3 (44.1 kHz sample rate,128/256/320 kbps, mono/stereo)
.wav (WAV format: 44.1 kHz sample rate, 16 bit resolution, stereo), .mp3 (44.1 kHz sample rate,128/256/320 kbps, mono/stereo)
*only on USB .wav (WAV format: 44.1 kHz sample rate, 16 bit resolution, stereo)
Playback
.wav (WAV format: 44.1 kHz sample rate, 16 bit resolution, stereo), .mp3 (MPEG-1 Audio Layer-3: 44.1/48.0 kHz sample rate, 64-320 kbps and variable bit rate, mono/stereo)
.wav (WAV format: 44.1 kHz sample rate, 16 bit resolution, stereo), .mp3 (MPEG-1 Audio Layer-3: 44.1/48.0 kHz sample rate, 64-320 kbps and variable bit rate, mono/stereo)
*only on USB .wav (WAV format: 44.1 kHz sample rate, 16 bit resolution, stereo)
Lyrics Display Function
Yes (.mp3 only)
Yes (.mp3 only)
–
Time Stretch
Yes
Yes
Yes
Pitch Shift
Yes
Yes
Yes
Vocal Cancel
Yes
Yes
Yes
Storage
Internal Memory
Yes (approx. 4 GB)
Yes (approx. 1 GB)
Yes (approx. 20 MB max.)
External Drives
USB flash drive
USB Flash Memory (via USB to DEVICE)
USB flash drive
Connectivity
Headphones
Yes
Yes
Yes
FOOT PEDAL
1 (SUSTAIN), 2 (ARTICULATION), Function Assignable
1 (SUSTAIN), 2 (ARTICULATION), Function Assignable
1 (Sustain), 2 (Unison), Function Assignable
Microphone
Microphone/Guitar x 1
Microphone/Guitar x 1
Microphone x 1
MIDI
IN, OUT
IN, OUT
–
AUX IN
Stereo mini jack
Stereo mini jack
Stereo mini jack
LINE OUT
MAIN OUTPUT (L/L+R, R), SUB (AUX) OUTPUT (1,2 (L/L+R, R))
MAIN OUTPUT (L/L+R, R)
MAIN OUTPUT(L/L+R, R)
USB TO DEVICE
Yes (x 2)
Yes
Yes
USB TO HOST
Yes
Yes
Yes
Amplifiers
(15 W + 10 W) x 2
15 W x 2
15 W x 2
Speakers
13 cm x 2 + 2.5 cm (dome) x 2
13 cm x 2 + 5 cm x 2
12 cm x 2
Power Supply
PA-300C or an equivalent recommended by Yamaha
PA-300C or an equivalent recommended by Yamaha
PA-300C or an equivalent recommended by Yamaha
Power Consumption
24 W
21 W
17 W
Auto Power Off Function
Yes
Yes
Yes
Included Accessories
Owner's Manual, Online Member Product Registration, Music Rest, AC Adaptor(may not be include depending on your area. Check with your Yamaha dealer.)
Owner's Manual, Online Member Product Registration, Music Rest, AC Adaptor(may not be include depending on your area. Check with your Yamaha dealer.)
Owner's Manual, Online Member Product Registration, Music Rest, AC Adaptor (may not be include depending on your area. Check with your Yamaha dealer.)