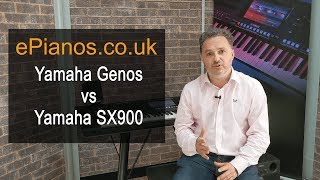 Yamaha Genos vs PSR SX900 "Mini Genos" Comparison Review
You may not realise that when a Genos comes from the factory it's contents are limited to just sounds and styles. When we sell a Yamaha Genos model from ePianos, we include lots of upgrades and uploads unique to Genos Tipsters and ePianos.
Firstly, we update the firmware so that your new keyboard is running on the latest version (Currently Version 2.01).
Then, we load in 600 registrations which give you sound setups in your 10 registration bank buttons for different genres of music. These include our 8 latest Registration Packs. We also load in 235 extra styles which originated from Tyros 5, but haven't been included in the Genos. After that, we add all 1825 of the Tyros 5 music finder songs, which can be searched to get 4 sets up for all of these popular songs
We also load in 50 new voices and 58 new styles, as part of the Version 2 additions. Finally, we load in 16 new playlists which allow you to scroll through lists of songs that go together in a medley.
And to make it all easier to understand, we include a DVD we have produced showing where all the key features are, and how to find all the features above.
Free packs when you buy from
ePianos
Bonus Pack Direct from Yamaha worth up to £155
Dec. 2017
Church & Christmas
Dec. 2017
Colors of Iberia
Jan. 2018
Greetings from Italy
Jan. 2018
Colors of Romania
Jan. 2018
South East Europe
Feb. 2018
Balkan & Turkey